Last updated on September 24th, 2015 at 08:22 pm
Crochet a Pretty Butterfly
By Gloria Deeser
The scrap crochet pattern for this pretty butterfly is a quick way to use up scrap yarn – add a magnet to use as a fridgie or a straight stick to use as a butterfly plant poke.
What you will need:

Size G crochet hook
Small amount of 4-ply yarn
(Choose at least 2 colors of yarn)
one large chenille stem
__________
Instructions:
Ch 8 and connect with slip stitch, ch 3
row 1: Put 23 DC in the circle, join to the top of the ch 3, finish off and add second color..ch 3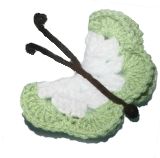 Pin
row 2: In the space right next to the ch 3 put 2 dc and 1 ch and 3 dc
*skip 3 dc and in between the stitches put 3 dc and ch 1 and 3 dc* repeat till their are 8 clusters made..join to the top of the ch 3…ch 1
row 3: In the next ch space put *8 dc, skip 3 dc and put 1 sc in that space* continue around till the end join and fasten off…add 1 st color used and ch 1
row 4 sc around the butterfly and join in the ch 1 and fasten off
To finish, fold the butterfly in half. Take the large pipe cleaner and fold in half and then fold turn to make a small circle then put the pipe cleaner around the middle of the butterfly. Curl the ends of the pipe cleaner. I use the crochet hook and twist it around that.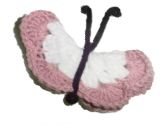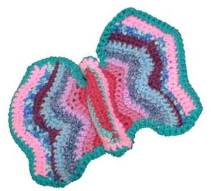 Pin
You may also be interested in the Holocaust Crochet Butterfly Pattern, shown at left, contributed as part of The Butterfly Project organized by the Holocaust Museum Houston.