Last updated on March 4th, 2021 at 12:35 am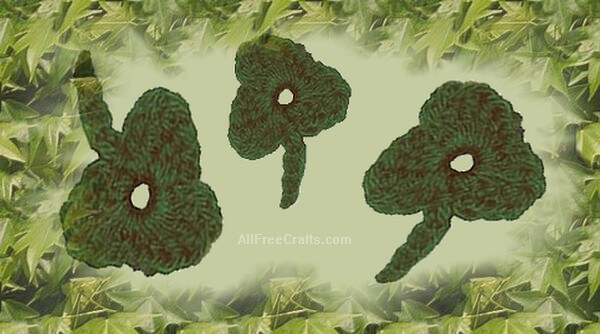 Free Crochet Shamrock Pattern
This beginner's crochet pattern was made to match our Four Leaf Clover pattern; both can be made very quickly with just a scrap of green yarn.
Add a safety pin or pin back to attach the shamrock to a hat or lapel for St. Patrick's Day, or use crochet cotton and a smaller hook to make a smaller shamrock suitable for decorating a greeting card.
by Jane Lake
Materials:
small amount of green worsted weight yarn for each shamrock
suggested crochet hook: 4.00mm or G hook
Pattern Instructions:
Ch. 6 and join with sl st to make the base ring.
In this pattern, all stitches are worked around the base ring rather than attaching to individual stitches within the ring. This allows you to rearrange the clusters after the work is complete for easy positioning.
*sc, hdc, dc, tc, dc, hdc, sc, sl st (first cluster made); repeat from * to make two more clusters.
Ch. 6, sl st in second chain from hook, sl st in each chain back to the shamrock, sl st to ring, fasten off and weave in the ends.