Last updated on May 22nd, 2020 at 09:54 pm
Here you will find a light-hearted approach to Halloween fun for the whole family. There are lots of free Halloween crafts for kids, but also projects that adults will appreciate as well. I've grouped things together, so you'll see sections for homemade costumes for kids and grownups; ghosts and ghouls (more friendly than frightening); pumpkins and jack o' lantern crafts; easy to make Halloween decorations; recipes and games; and, of course, some bewitching witch crafts.
I hope my Halloween ideas will inspire you and provide hours of enjoyment for your family and friends.
by Jane Lake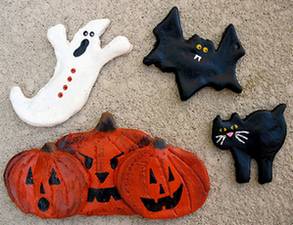 Homemade Halloween Decorations
Go a little batty and create some whimsical Halloween decorations for a memorable Halloween celebration.
Easy DIY Halloween decorations with egg carton bats, creepy crawlie spiders or tin can Frankensteins to salt dough creatures, spooky yard signs and the original hand print spider smilies.
Wondering what to wear to this year's neighbourhood Halloween costume party? I've compiled an inspirational list of Halloween costumes for women and men of all shapes and sizes, with links and images of costumes available on Amazon. Order the costumes if you're in a hurry and that's what you want, but it wouldn't take long and would cost much less if you put your own spin on it. For each costume idea, I've provided thrifty, practical suggestions for putting together your own version of each costume.
You'll also find dozens of Halloween costumes for kids to make (either on their own, or with your help). From cardboard box costumes, to dressing your toddler, or creating that perfect outfit for Trick or Treating, you'll find it here.
Friendly ghosts come calling in the guise of dryer sheet ghosts, Q-Tip skeletons, Styrofoam tombstones, ghostly garlands and more.

Pumpkin and Jack O ' Lantern Crafts
Let your imagination take charge and make a Halloween pumpkin from a paperback book, glass jug, three-dimensional circles of construction paper, salt dough, light bulbs, a silk mum flower and more.
Halloween Recipes, Games and Activities
Get the kid's Halloween party started by checking out a list of 15 Halloween party games and activities. You'll also find recipes for edible wonders such as creepy crawlie snacks, eyeball cupcakes and mummy hot dogs, as well as traditional recipes for candy apples and roasting pumpkin seeds.
Crafty witches to make yourself from light bulbs, clay pots, pringle cans and other objects; hand print witch hands, and a plump, black cauldron for the Halloween witch's brew.