Last updated on February 20th, 2021 at 10:45 pm

Take a break from life's hectic pace and spoil yourself a little with these easy-to-make bath and beauty care recipes and luxurious self-care recipes. Whether you're looking for an at-home spa experience, or want to rejuvenate and moisturize your skin, you'll find something here to soothe, relax and pamper you.
Most of the recipes use organic or natural ingredients, which may already be waiting in your garden, pantry or bathroom cupboards.
Consider using one or two of these ideas as little homemade gifts for those you love. They will love you for it!
by Jane Lake

Skin nourishing recipes for facial toners and scrubs, homemade lip balm recipes, plus herbal waters, recipes and spritzes.

Plain, layered and aromatherapy bath salts, oils, gels and bubbles, plus recipes and free printable sachets for homemade milk bath bath powder.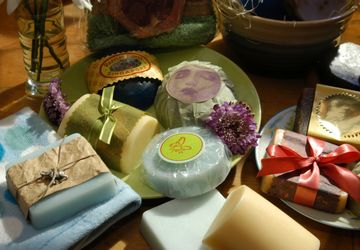 Homemade soap crafts – oatmeal, glycerin, liquid, spiced, baby shower and wrapped soaps.