Last updated on August 11th, 2014 at 05:02 pm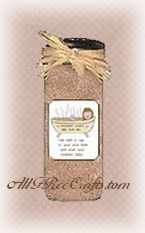 What could be a better gift for chocolate lovers than a chocolate milk bath recipe?
by Jane Lake
Bathing in chocolate, of course, is a seductively decadent idea – but oh, so very tempting!
Luxurious as it is, this simple bathing concoction won't break your diet or your budget, but it will help soften and exfoliate your skin.
What You Need: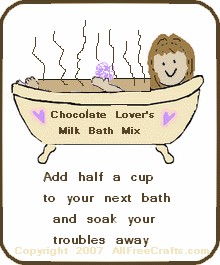 Pin
Mix together all ingredients and place in a glass jar or shaker jar.
Print the label shown below and glue it to the front of your container.
Decorate the top of the jar with ribbon, raffia, or a circle of fabric held on with an rubber band.