Last updated on January 27th, 2022 at 12:08 am
Free Easter Crafts
Embrace, enjoy and celebrate Easter with wide-ranging craft projects using lots of recycled and inexpensive supplies. From fluffy chicks to Easter bonnets, bookmarks and bunnies to decorating Easter eggs or making your own Easter baskets, you'll find it all here!
Easter bunnies to make from felt, craft foam, recycled Pringle cans, pompoms, CDs, pots, glass jars, wash cloths and other supplies that you may already have in your home. Make an Easter bunny bank or a jelly bean bunny and have a very Hoppy Easter!
How to make and decorate baskets for Easter celebrations, including paper baskets and printable baskets for just one egg.
You'll also find baskets made from fabric, gourds, berry baskets and mini fence pickets.
Lovely ways to make and decorate Easter eggs; how to make hollow eggs or natural dyed eggs, faux Faberge, tie-dye, and mod podge eggs. Also how to make boiled egg bunnies or deviled egg chicks.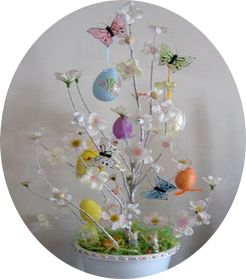 Easter chicks, candy carrots, hot cross buns, homemade Easter tags or bookmarks – there's lots of easy Easter projects here.
Get inspiration for your Easter bonnet or learn how to make a pretty Easter tree.
Related Easter Resources:
Paper bunnies, printable Easter cards and printable egg stands from our sister site, AllFreePrintables.com.