Last updated on February 8th, 2023 at 07:40 pm
Free Valentine Crafts and Projects for Family Fun
Celebrate Valentine's Day with easy craft projects, recipes, treats and activities for all the family.
You'll find special crafts for children, lots of hearts and crafts, plus some rather unexpected romantic ideas for sweethearts and lovers.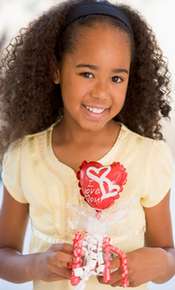 Create a popular hand print scroll or other hand print or foot print Valentine crafts.
Make paper heart garlands or secret paper Valentines.
Or try our easy homemade gifts made from pebbles, pencils, paper, foam and other cheap or handy supplies.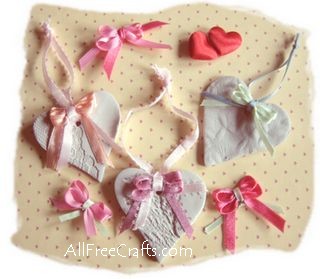 If I Only Had a Heart projects with heart-shaped crafts including how to make air-dried clay hearts, shown above.
You'll also find out how to make doily sachet hearts, crocheted hearts, a heart-shaped wreath or a sweet little heart posy.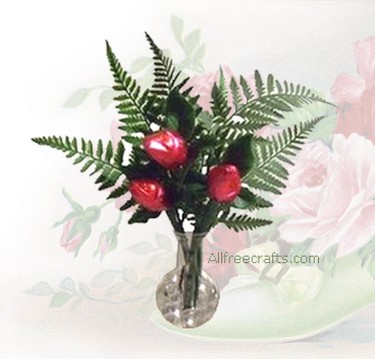 From heart-shaped cakes to chocolate dipped strawberries and a lovely chocolate rose kisses bouquet (shown above)! Here, you'll also find six heart-shaped egg dishes, paint chip Valentine treat cards, luscious truffles and homemade chocolates.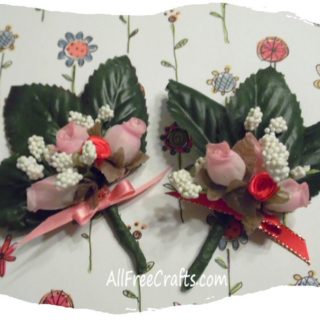 Loving but crafty ideas for Valentine's Day that won't break the budget including small rosebud posies (shown), a pot of silk roses, hand painted wine glasses and romantic ideas for couples with kids.
Related Craft Projects:
Also see Gifts in a Jar, Easy Homemade Gifts and Bath and Body Crafts for more great Valentine's Day ideas.
Valentine Printables:
Find Romantic bookmarks and Valentines and a Printable Valentine Activity Book at our sister site, AllFreePrintables.com, plus Printable Horse Valentines from Horses-and-Ponies.com.