Cinnamon Hot Chocolate Jar Mix
by Jane Lake
This is a nice variation on the usual Hot Chocolate Jar Mix recipe. Both versions are very good, but cinnamon is a healthy addition to the ingredients, and appealing for those who love the taste and fragrance of this popular spice.
Cinnamon Hot Chocolate Jar Mix Recipe[xyz-ihs snippet="AFCembed"]
Ingredients:
1 3/4 cups nonfat milk powder
1 cup icing sugar
1/2 cup cocoa
1/2 cup nondairy creamer
1/2 teaspoon ground cinnamon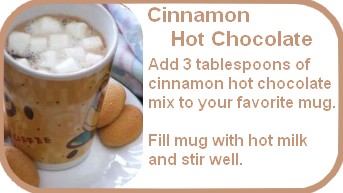 Pin
1 cup miniature marshmallows
optional: 2 or 3 cinnamon sticks to decorate the jar
You will also need 3/4 cup of hot milk.
Cinnamon Hot Chocolate Mix Recipe:
In a large bowl, thoroughly stir together milk powder, sugar, cocoa, creamer and cinnamon. Gently stir in marshmallows.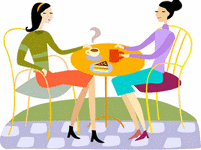 Pin
Pour Cinnamon Hot Chocolate Mix into an airtight jar. Can be stored in a cool, dry place for about three months.
If giving this mix as a gift, tie two or three cinnamon sticks around the rim of the jar and attach a gift tag or my Free Printable Cinnamon Hot Chocolate Mix label.
To prepare cinnamon hot chocolate, dissolve three tablespoons of mix in 3/4 cup of hot milk.