Last updated on March 26th, 2016 at 01:16 am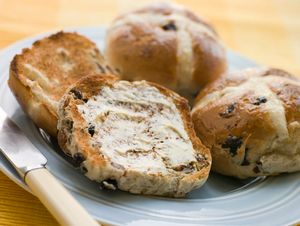 PinDelicious, tried-and-true, family favorite recipe to make homemade hot cross buns for Easter.
By LeAnn R. Ralph
When I was a kid growing up on our Wisconsin dairy farm, my mother would talk about eating hot cross buns at Easter when she was a child. The buns were something that her Norwegian mother made every year.
Homemade Hot Cross Buns:
2 packages dry yeast (or 4 teaspoons bulk yeast)
2 cups warm water
2 cups mashed potatoes
1/2 cup sugar
1/2 cup shortening
1 teaspoon salt
2 eggs
1 teaspoon cinnamon
1 cup raisins
5 to 6 cups flour
Dissolve the yeast in warm water. Add the potatoes, sugar, shortening, salt, eggs, cinnamon, raisins and 2 cups of flour. Beat until smooth. Stir in remaining flour. Knead for about 5 minutes. (The dough will be sticky and soft.) Place in a warm place to rise for 1 hour.
Punch down dough. Shape the dough into 24 equal pieces. Place on a greased baking sheet. Let rise for 45 minutes. (My mother said that after the buns are shaped you should cut a cross in the top with a scissors; I've always found that when the buns are finished raising, you can't really see the cross. The buns just end up with four "points" on the top. But you can try it if you want.)
Bake in a 350°f oven for 25 to 30 minutes or until golden brown.
When the buns are cool, if desired, make frosting crosses on the top with icing.
Hot Cross Buns Icing
1 cup powdered sugar
1 tablespoon water
1/2 teaspoon vanilla
Use a spoon to drizzle crosses on the top of the buns.
Variation:
Potato Buns – To make potato buns, leave out the cinnamon and raisins.
For more free recipes, visit RuralRoute2.com