Last updated on November 13th, 2021 at 12:36 am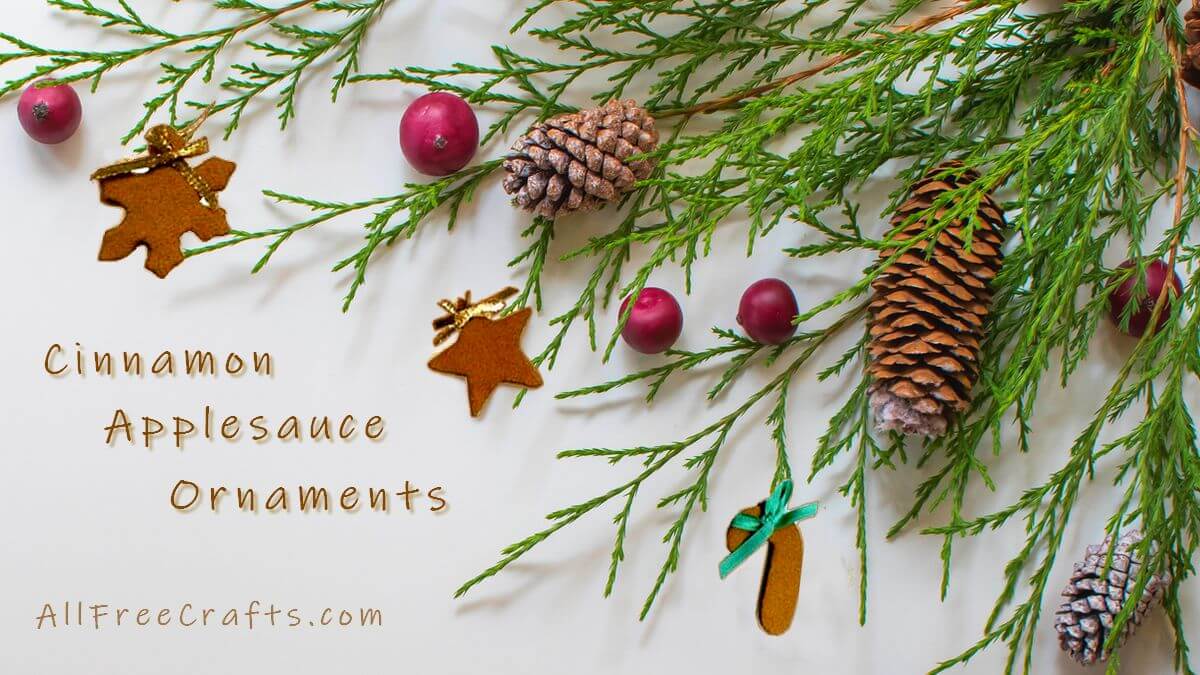 Cinnamon Applesauce Ornaments
The rich color and wonderful scent of these cinnamon applesauce ornaments make them a lovely addition to your Christmas decor.
Try hanging a few from a window sill, making the ribbons of different lengths so that the ornaments will hang at different levels, or simply add them to your Christmas tree. You may also enjoy making these Cinnamon Stick Christmas Trees!
AllFreeCrafts is reader supported! Many craft supplies are available at thrift stores and I actively support recycling so try that first! However, if you purchase from an affiliate link on this site, I do earn a small commission at no extra cost to you. For instance, as an Amazon associate, I earn from qualifying purchases. This has helped me keep AllFreeCrafts.com up and running since 2002. Thank you!
Craft Supplies:
Cinnamon
Apple Sauce
Craft Glue
Cookie Cutters (cut by hand if you like)
Ribbon
Toothpick
Craft Project Instructions:
Mix equal amounts of apple sauce and cinnamon and add 1 teaspoon of craft glue for every cup of applesauce.
Editor's Note:
From reader comments, it seems using equal amounts of apple sauce and cinnamon sometimes results in wet dough. This depends on how watery your apple sauce is, so begin with one cup of apple sauce and one teaspoon of white glue, plus one cup of cinnamon – but also realize that you may need to add more cinnamon, in one-third cup increments, until the dough is of workable consistency.
Mix all ingredients until you have a firm but wet dough. If you like you can substitute small amounts of cinnamon for a little nutmeg or ground cloves.
Roll out your dough to at least 1/4 inch thickness (less than this will make your ornaments a little weak and they break easily) and cut shapes with cookie cutters.
With a toothpick, poke a hole at the top of each ornament that is large enough for a ribbon to be pulled through. Place ornaments on a cooling rack or tray to dry completely. Depending on how large your ornaments are, drying could take a couple of days; it's best not to touch your ornaments during this time.
Once your ornaments are dry and if there are a few rough edges, you can easily remove the roughness with a little fine sandpaper. Sand your ornaments gently, as it doesn't take much to remove the little edges.
Tie a ribbon through the hole and, if you like, you can paint these ornaments or add a little glitter. Be sure not to cover the entire ornament with paint or the wonderful scent will be lost.
Copyright © 1999-2021 Susan Spatone All rights reserved.
Published with permission from CraftAtHome.com