Last updated on August 11th, 2014 at 03:42 pm
How to Make Gentle, Effective Almond Oatmeal Facial Scrub
By Jane Lake
A little of this goes a long way – you only need a teaspoon or two of our natural Almond Oatmeal facial scrub, made from botanical ingredients such as almonds, oatmeal and chamomile, to cleanse, nourish and soften your skin.
A similar homemade facial recipe to try is our Wheat Germ Facial Scrub, which also uses ingredients you may already have in your pantry.
Almond Oatmeal Facial Scrub Recipe
1/4 cup of oatmeal
1/4 cup of almonds
1 tablespoon cornstarch
optional – 1 tablespoon of chamomile flowers (or substitute 1 tablespoon of chamomile flower tea)
Add all ingredients to a food processor or blender and process until the mixture resembles a fine mealy-textured powder. Funnel into small glass jars.
Usage:
Place a teaspoon or two in your hand and add enough water to form a paste. Dab onto face with your fingers and gently distribute with soft circular motions, avoiding the eyes. Rinse well with water and a fresh wash cloth.
Free Printable Almond Oatmeal Facial Scrub Jar Label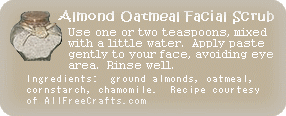 If you like this recipe, you may also wish to try our Wheatgerm Facial Scrub recipe.