Last updated on March 4th, 2021 at 08:35 pm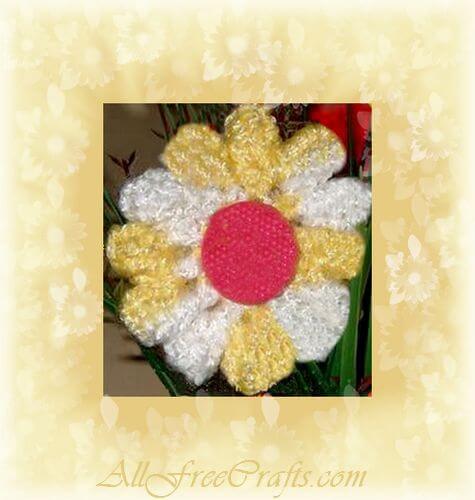 How to Crochet a Daisy
Daisies are so bright and cheerful – and you'll want to crochet an entire bouquet when you see how easy this pattern is to make.
There is no set gauge; change the weight of yarn and you'll change the size and scale of the flower, so use up your scrap yarn or choose whichever one works best for you.

by Jane Lake
I used a variegated yellow and white yarn for this sample, but you could crochet the center in yellow and do the popcorn stitch petals in white – or make painted gerbera style daisies using a whole range of different colors (which happens to be on my personal To-Do list, partly because I have some very pretty leftover yarns that I need to use up but mostly because I think this pattern would be stunning in different colors).
The center of this daisy flower looks fine as is, or you could sew on a small crocheted circle, a pretty button or pompom.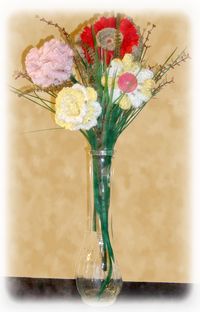 Materials:
your choice of yarn: worsted, finger weight, baby weight, crochet cotton etc.
crochet hook: 2.50mm – 3.00mm
Pattern Instructions:
Ch. 3, join to make a ring.
Row 1: Ch. 3 (counts as 1 dc), 11 dc in ring, join.
Row 2: Ch. 3, 2 dc in each dc all around, join. (24 dc)
Row 3: Work 12 popcorn stitches in every other dc all around. Popcorn stich: 9 trs in same stitch, remove hook and join first and last tr with ss. Ch. 3.
Row 4: This row is worked on the back of the flower. *Ch. 4, 1 tr in Ch. 3 space, 1 tr in join of tr petal.* Repeat * all around, join with ss in 3rd chain. Break yarn leaving an eight inch string, work yarn loosely in and out of the tr stitches and tighten like a draw string to complete the back.
Complete the flower by sewing on a small crochet circle (repeat row 1), pompom or button.