Last updated on May 29th, 2020 at 11:15 pm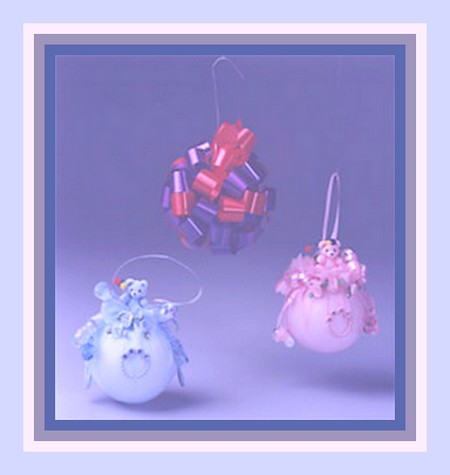 Make these sweet little baby ornaments as a personal baby shower keepsake that will be treasured forever!
Designed By: Kathleen George
Typical Project Completion Time: 1-2 hours
(does not include drying time)
Baby's First Ornament
STYROFOAM* Brand Products:
Other Materials:
1- 1/3 yd. of sheer fabric, pink or blue
Thread, pink or blue
Curling ribbon, pink or blue
Ribbon roses, pink or blue
Assorted baby charms (small diaper pins, rattles, ID bracelets and mini teddy bears (affiliate link)
Craft pins
Scissors
Thick white craft glue and/or low temperature glue gun and glue sticks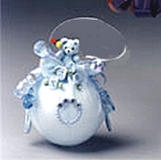 Craft Instructions:
1. Cut 11″ diameter fabric circle; sew a running stitch 1″ from edge of circle. Place foam ball in center of fabric circle and pull thread, gathering fabric around ball. Wrap thread around gathered fabric to secure, leaving a 3/4″ circle of foam exposed; knot threads.
2. Arrange charms on ball (refer to photo). Glue flat charms to ball. For dimensional charms, glue or thread ribbons to charms and pin ends of ribbons under the ruffled fabric at top of ball. Glue ribbon roses to center front of ball.
3. Curl several lengths of curling ribbons; glue to top of ball.
4. To hang, knot a 6″ length of curling ribbon; push knot into exposed foam and glue.
5. Glue teddy bear to top of ball, covering exposed foam.
*Trademark of The Dow Chemical Company
Project reprinted courtesy of The Dow Chemical Company, Manufacturer of Genuine STYROFOAM(R) Brand Foam.