Last updated on June 17th, 2016 at 11:07 pm
This butterfly craft foam project is quick and easy, and so pretty that you'll want to make more than one!
by Twila Lenoir
Craft Supplies:
» craft fun foam sheets or scraps
» paper to make a template
» glue
» scissors
» pencils
» black pipe cleaners or chenille stems
» sequins, buttons, or other ornaments
Project Instructions: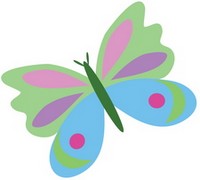 Pin1. Take a blank piece of paper and fold it in half. On the fold, draw a heart shape without the point at the bottom (the point extends beyond the fold). Look at the picture of the template shape above to see what this should look like – when you open the heart shape, it should look like a butterfly!
2. Once you are satisfied with the butterfly shape, use it as a template to trace on any color of fun foam. Cut this shape out.
3. Now fold the fun foam butterfly shape in half, and make two small slits close together, in the center, as seen in the picture. This is where your pencil will fit.
4. Decorate the butterfly pencil topper with foam shapes, rhinestones, glitter, sequins or fancy buttons.
5. Insert a pencil through the two slits.
6. Take a black pipe cleaner or chenille stem and cut it in half. Twist around the front of the pencil in the front of the butterfly and make a loop at the tip of the antennas.