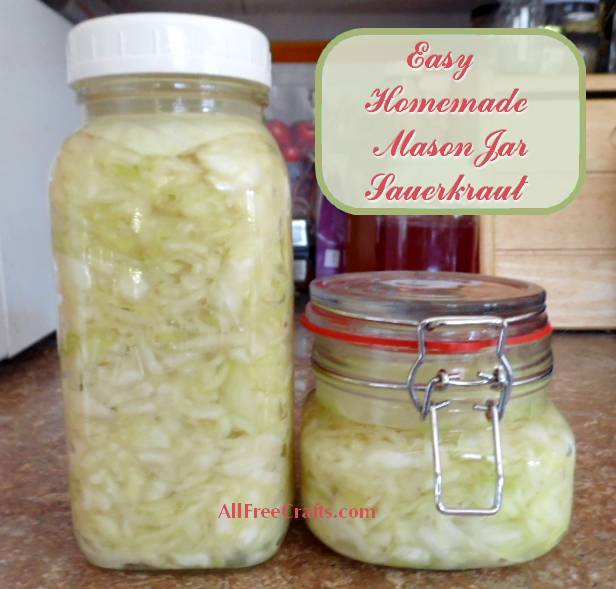 PinMason jar sauerkraut is a perfect recipe for someone just starting out with fermented foods. It's super easy to make, cheaper than store-bought, good for you and delicious. 
Ready to eat in a week or two, unpasteurized lacto-fermented mason jar sauerkraut offers plentiful probiotics for optimum gut health, bone-building vitamins C and K, soluble fiber and iron. This also makes a yummy gift in a jar!
Mason Jar Sauerkraut
Easy mason jar sauerkraut: chop cabbage, add salt, pack in a mason jar then allow to ferment and develop probiotics (for about a week) or until yummy.
1 chopped cabbage ((Approx. five cups chopped cabbage))
1 tbsp sea salt or kosher salt
1 grated carrot ((Optional))
Wash the cabbage in cold water then remove the outer leaves from the cabbage, setting aside one large, clean cabbage leaf for use later.

Chop the cabbage into fine ribbons. An efficient way to do this is to cut the cabbage into 1/8 to 1/4 inch slices, then layer a few of these slices at a time on the chopping board and slice through them all at once to create fine cabbage ribbons.





As you work, cut around the dense cabbage core and discard it.

Place the chopped cabbage into a mixing bowl. If desired, grate one medium carrot and mix it with the cabbage.

Sprinkle the cabbage with one tablespoon of sea salt or kosher salt and stir thoroughly to combine.

Set the cabbage mixture aside to "sweat" for 15 to 20 minutes.

Now it's time to get aggressive with that cabbage! Begin pounding the cabbage with a potato masher, turning the mixture over as you work. When your arms are tired and a puddle of salty brine appears at the bottom of the bowl, you can take a breather.

Half an hour later, repeat this mashing process once more.

Pack the cabbage into a one quart mason jar. Use a spoon or silicone spatula to pack the cabbage down firmly and pour in all the accumulated brine. Leave half to one inch of headspace at the top of the jar.

Clean the outer leaf saved earlier and cut a circle from it to fit the top of your mason jar. Press this circle onto the top of the chopped cabbage mixture. If brine doesn't already appear above this circle, it will soon.

This top leaf helps keep the chopped sauerkraut submerged in the brine. This is important because exposure to air during fermentation can introduce undesirable bacteria or mold. You may also use fermenting weights, or place a smaller jar weighted with pebbles, on top of the sauerkraut to keep it safely covered by brine.





Cover the jar with layered cheesecloth, a coffee filter, or a loosely fitted plastic storage lid (mayonnaise jar lids sometimes fit perfectly). Do not over-tighten!

It is normal for bubbles to form on the sides and at the top of the jar. Fermentation produces carbon dioxide which must escape or the increasing pressure will break the glass jar. Excess brine may also spill out of the jar.

Place the jar of sauerkraut on a plate or bowl, at room temperature between 70 and 75 degrees Farenheit (21 to 23 degrees Celsius) and set aside. Cooler temperatures cause slower fermentation.

Check the jar daily for any signs of spoilage or mold.

If the brine is low, push down from the top until all the cabbage is submerged. If necessary, top up the brine by making a separate batch using half a tablespoon of salt to one cup of water.

After a week, taste test your sauerkraut. If you like it, stop there and store your completed sauerkraut in an airtight jar in the fridge.

If you prefer slightly more of that iconic tangy flavor then simply leave the jar at room temperature, tasting every few days, until you achieve the perfect homemade sauerkraut.


Sauerkraut Variations
Once you know how easy it is to make mason jar sauerkraut, you might want to experiment with different flavor and texture combinations. Generally, keep additions to no more than a quarter of the total vegetables.
Here are a few suggestions:
Substitute napa cabbage for white cabbage.
Make pink sauerkraut with equal parts white cabbage and red cabbage.
Add a purple twist by adding one grated beet to the cabbage and salt. No need to remove the skin, just top and tail the beet before grating.
Add caraway seeds for flavor.
Add a grated apple instead of a carrot.
Resources: