Last updated on December 8th, 2021 at 01:33 am
Here's how to make the best homemade powdered coffee creamer ever, in plain or flavoured versions.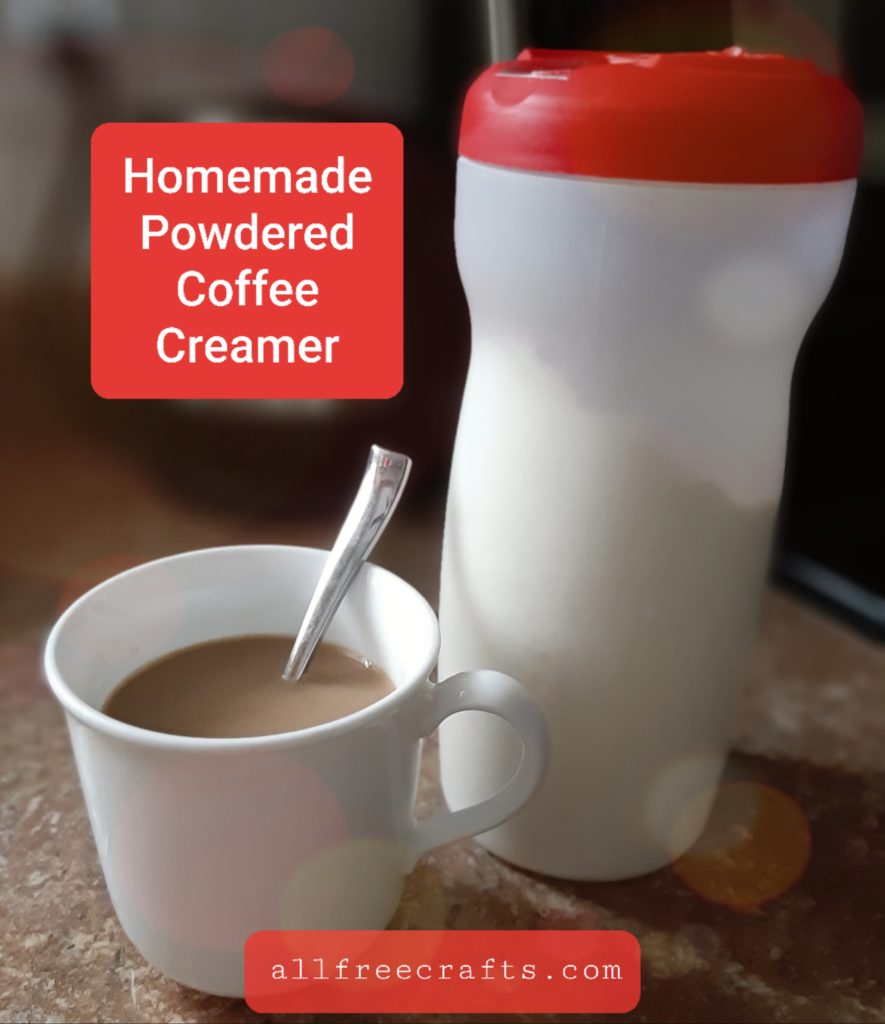 Although this easy recipe for powdered coffee creamer makes a great gift in a jar for a coffee lover, it's one that I make in bulk for my own pantry. I think all the flavors are delicious so I change them around each time I make a new batch.
You will find similar flavours, plus more, in my older post of Homemade Coffee Mixes which include instant coffee as the mainstay. These newer coffee creamer recipes don't have any coffee in them at all, but add them to your favourite brew for a flavourful start to the day.
Ingredients
2 cups skim milk powder
1 cup icing sugar
2 tablespoons melted coconut oil
That's it, that's all you need for basic powdered coffee creamer. You can cut the recipe in half, double, or treble it, according to your gift requirements (or your personal coffee addiction).
Mix It Up
I use a mini food processor to mix the standard recipe, but you could also use a blender. Add the powdered milk and sugar to the food processor and pulse until combined.
Melt the coconut oil and drizzle it through the top food processor port, or add very gradually to the blender, pulsing the ingredients as you go until thoroughly combined.
If you're not adding flavorings, you're all done mixing! Just pour the powdered coffee creamer into a Mason jar for storage or gift-giving. Or recycle a Coffee-Mate container if you have one around; it is nicely designed for this purpose.
One useful tip, which delighted me when I found out, is that the lids of commercial coffee creamer bottles often fit smaller one-pint mason jars. Handy for all sorts of things but, methinks, especially fitting in this instance.
Homemade Powdered Coffee Creamer Flavors
These are flavorings that I enjoy; feel free to tweak the amounts, upping flavors you prefer and reducing those you don't, until you experience that perfect blissful coffee "Ahhh…"
Blend dry additions with the milk and sugar powders. Add liquids along with the melted coconut oil.
Amaretto Mocha – Add 1/3 cup each of cocoa and brown sugar. Slowly drizzle in 1/2 teaspoon almond extract, mixing well.
Butterscotch – Add 1/4 cup brown sugar and 1/3 cup of instant butterscotch pudding.
Candy Cane – Crush as many candy canes as you need to mix with equal amounts of the basic powdered coffee creamer. I put the candy canes in a plastic bag and crush them with a rolling pin. Yummy!
Chocolate Mint – Add 1/3 cup each cocoa and white sugar. Slowly add 1/2 teaspoon peppermint extract, mixing well.
Pumpkin Pie – Add an extra cup of icing sugar to the basic mix, to sweeten the following spices: 4 teaspoons cinnamon, 2 teaspoons each of ginger and nutmeg, and 1 teaspoon each ground cloves and ground allspice. Can you smell it in your kitchen already?
Vanilla – Add 1/2 teaspoon of pure vanilla extract to basic recipe, dripping it slowly into the food processor and pulsing to combine.
Vanilla Caramel – As above, but reduce icing sugar to 2/3 cup and add 1/3 cup of brown sugar.