Last updated on March 16th, 2021 at 10:18 pm
I liked the sound of the recipe on the package of Hershey's Sea Salt Caramel Chips (affiliate link), but what I was looking for was a new cookies in a jar recipe. What I came up with is Salted Caramel Pecan Cookies tweaked to layer in a mason jar.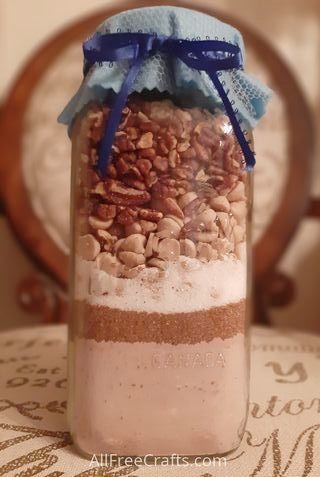 For my family, these are a must-make-again win: crisp and chewy cookies tasting of salty sweet caramel, chocolate, and generous bites of pecans. They also make a change from Butterscotch Cookies in a Jar and make a great choice to serve with tea.
Layer the Jar
To make your own version of this jar gift, layer ingredients into a two-quart mason jar in the order given in the recipe.
Firmly pack down each layer before adding the next. I used a small ladle for this, working oh-so-carefully. Then I promptly knocked the whole jar over. Don't do this! Even firmly packed, some chips and pecans got mixed together, as you can see.
Free Printable Jar Label
For gift giving, print the directions label shown here, or write them out yourself, then attach the directions to your jar.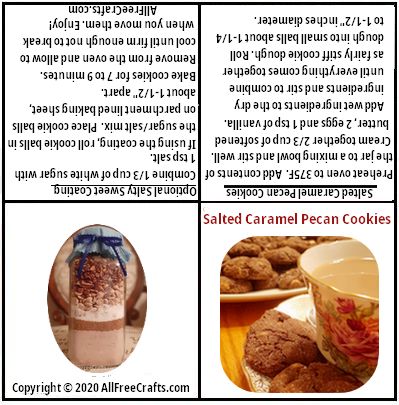 Cut out, then fold the free printable jar label into quarters. The directions should appear inside with the teacup on the front. Punch a tiny hole in the top left corner. Thread the hole with string and tie the label around the neck of your gift in ajar.
Salted Caramel Pecan Cookies Recipe
Salted caramel pecan cookies make a great gift in a jar, but they taste so salty sweet delicious that you'll want to make a batch for yourself.
Dry Ingredients: Mix together the following ingredients and pack into the bottom of a two-quart mason jar.
1⅓ cups flour
⅓ cup cocoa
½ tsp baking soda
¼ tsp baking powder
¼ tsp sea salt
Add the next four ingredients to the jar in the order they are given, packing down each layer as you go.
½ cup demerara or light brown sugar
½ cup white granulated sugar
1⅓ cups salted caramel chips
½ cup pecans (You may need more than ½ cup to bring the pecans to the very top of the jar.)
YOU WILL ALSO NEED:
⅔ cup softened butter
2 eggs
1 tsp vanilla
1/3 cup white sugar mixed with 1 tsp sea salt for an optional coating. You can roll each cookie dough ball in this sweet and salty coating if desired.
RECIPE INSTRUCTIONS
Add contents of the mason jar to a large mixing bowl and stir to combine.
Cream together 2/3 cup of softened butter, 2 eggs and 1 teaspoon of vanilla.
COMBINE ALL INGREDIENTS AND BAKE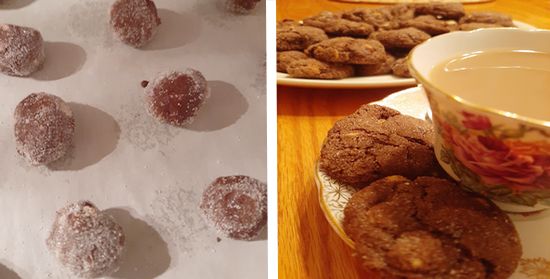 Preheat oven to 375°.
Add wet ingredients to the dry ingredients that you emptied into the mixing bowl. Stir until everything comes together as fairly stiff cookie dough.
Roll the dough into small balls, about 1¼ to 1½ inches diameter. If using, combine the sugar and salt coating together and roll each ball in the coating mix.
Place the cookie dough balls onto parchment lined cookie sheets, leaving about 1½ space all around each one. 20 balls should fit on a standard baking sheet.
Bake cookies for 7 to 9 minutes. Remove from the oven and allow to cool until firm enough not to break when you move them. Yum!