Last updated on October 31st, 2016 at 11:33 pm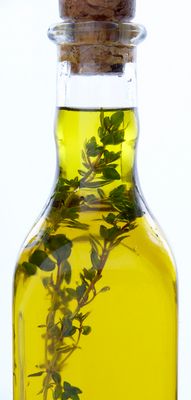 PinHow to infuse vinegars and oils with the flavors of herbs and spices.
by Martha Matthews
Flavored vinegars and oils are quite popular these days. They make a very thoughtful gift for a hostess, for a housewarming, or for Christmas. If you've priced them though, you know that they aren't cheap. You can make your own version of these trendy little items with a few simple ingredients, but do make sure you read the Safety Tips at the end of our article for proper preparation and storage.
Here are a few ideas to get you
started.
FLAVORED VINEGARS
Flavored vinegars and oils add an extra kick to marinades, sauces, and dressings. If you are looking for an elegant and thoughtful gift to make for Christmas, try these savory blends that are sure to enhance any meal. If you grow your own herbs, this is a great way to use up any excess before the growing season is over. We hope you enjoy these unique blends.
Vinegar Base
1 small bunch of parsley
1 teaspoon of peppercorns
1/8 teaspoon of salt
1 clove of garlic, peeled


1 quart of your choice of vinegar: cider, white distilled, rice wine, white wine, or red wine
Place the parsley, garlic, salt and pepper in a 2 quart ceramic or glass bowl.
Bring the vinegar to a boil. Pour the vinegar over the herbal mixture in the bowl.
Cover and let the mixture stand for two days. Strain the mixture and decant into a sterilized bottle. Add one to three sprigs of the herbs of your choice. Seal the bottle with a cork or lid. Let stand for two more weeks before using.
Flavor combinations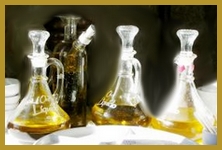 PinTarragon and lemon in white wine vinegar
Chives, basil, and parsley in white wine vinegar
Oregano, rosemary and thyme in red wine vinegar
Lemon and dill in cider vinegar
Garlic, chives blossoms and chervil in red wine vinegar
Cilantro, jalapeno pepper and lime in white distilled vinegar (this one is hot)
Lavender blossoms in cider vinegar
Ginger root and cilantro in rice wine vinegar
FLAVORED OILS
1 teaspoon peppercorns
8 to 10 sprigs of your choice of herbs
Olive oil to fill the container you are using
1 sterile bottle or wide mouth canning jar
Place the herbs and peppercorns into the sterile bottle or wide mouth canning jar. Use a funnel to decant the olive oil into the bottle to cover the herbs. Seal.
PinFlavor combinations
Lemon and dill
Tarragon and chive
Lemon and garlic (one of our favorites)
Garlic, onion, and basil
Basil and garlic
Cilantro and Lime
Rosemary and Marjoram
Garlic, onion, oregano and red bell pepper
Note: When using large pieces of fruit or vegetables, cut them into small wedges or pieces to fit into the bottle. Use bamboo skewers to hold the pieces together in the bottle.
Use herb vinegar in salad dressings, marinades, or to de-glaze pans.
Safety Tips for Flavored Vinegars and Oils:
Vinegars
The high acidity of vinegars prevents the growth of Clostridium botulinum bacteria, the deadly bacteria that causes botulism. Some vinegars, however, can support the growth of E. coli bacteria, so precautions are advised.
Precautions:
Use clean sanitized jars. Immerse jars/bottles in boiling water for 10 minutes. Work with thoroughly cleaned herbs and produce. Dip them in a solution of one teaspoon of household bleach per six of cups water. Rinse in clear running water.
Heat the vinegar to just below boiling.
PinPlace desired herb(s) in the sanitized bottles or jars and add hot vinegar.
Tightly cap and store in a cool clean place for three to four weeks.
Once the flavor is developed, strain the vinegar one or more times using damp cheesecloth or coffee filters until the vinegar is no longer cloudy.
Pour the strained vinegar into a clean sterilized jar/bottle adding a sprig or two of fresh herbs (or berries) that have been sanitized as above.
Seal and store in the refrigerator. For best flavor, use within three or four months.
Oils
Precautions:
Oils flavored with garlic, herbs, or dried tomatoes or combinations of these ingredients pose a health hazard if not kept refrigerated. Unrefrigerated garlic-in-oil mixtures lacking antimicrobial agents have been shown to permit the growth of C. botulinum bacteria and its toxins, without affecting the taste of smell of the products. The FDA recommends that home-prepared mixtures of garlic-in-oil be made and used fresh.
PinAdding dried herbs to oil poses less of a risk because of the low water activity of the dried herbs. Fresh herbs, on the other hand, could support the growth of C. botulinum based on several factors, including high water activity and high pH. C. botulinum can be controlled in these products simply by refrigerating. The addition of fresh whole chilies or fleshy vegetables would also pose a C. botulinum risk at room temperature storage.
Based on this information, we recommend that all home-prepared flavored oil products should be stored at refrigerated temperatures. If the product was flavored with a fresh herb or vegetable, expect the shelf life of the product to be about three weeks in the refrigerator, longer for dried flavorings. (RB)
Source: Food and Nutrition Digest, Extension Foods and Nutrition, Cooperative Extension Service, Kansas State University, citing Colorado State University Cooperative Extension Fact Sheet No.9.340 – Preparation of Flavored Vinegars and Oils by Pat Kendall and J. Rausch.