Last updated on November 12th, 2014 at 07:29 pm
How to Make Herb Vinegar with a Variety of Herb Combinations
By Jane Lake
Did you ever stroll down the specialty foods aisle and eye the pretty bottles of vinegar filled with sprigs of herbs but you never buy them because they are so expensive? Well, your instincts are good – and the good news is that you can make the same thing – personalized for your particular tastes – for a fraction of the cost.
Choose a herb combination that appeals to you, based on herbs that you have tasted before and already appreciate for their unique aromas and flavors.
Herbal vinegars make great low-calorie salad dressings because they pack a great flavor punch without the high calories or health risks of fats or oils.
Herbal Vinegar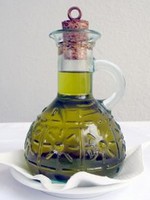 PinSome Herb Combinations to Try:
sage, dill, coriander
sun dried tomatoes, basil, onion, garlic
lemon rind, dill, fennel
rosemary, thyme, garlic
pine nut, basil, onion, garlic
garlic, onion, hot peppers
Preparation:
1. Open your food processor and fill the cup 3/4 of the way full with your choice of fresh, cleaned herbs.
2. Pour in about a cup of vinegar heated to just below boiling point.
3. Process on high for about 30 seconds. Add more herbs and another 2 cups of vinegar. Pulse for another minute or two.

Pin
4. Line a sieve or tea strainer with a coffee filter and slowly pour the herb and vinegar mixture through the coffee filter and into a bowl. Carefully press the herbs against the filter to press all of the vinegar out of the herbs. Re-line the sieve with a fresh coffee filter and pour the strained vinegar through the sieve once more to catch any loose herbs.
5. Store in a clean, sterilized jar or bottle with a tight fitting lid. Add whole herbs and spices of your choice. The longer your vinegar sits the stronger the flavour will get.
6. If you begin to run out of your favorite herb vinegar, add a little more vinegar to the bottle (and some fresh herbs if you wish), then let it sit for a week.
Pin
Herbal Vinegar Tips and Precautions:
Use Clean Sanitized Jars – Immerse jars/bottles in boiling water for 10 minutes before capping or sealing.
Work with Cleaned Herbs and Produce – Dip them in a solution of one teaspoon of household bleach per six of cups water. Rinse in clear running water.
Heat the vinegar to just below boiling.
Seal and Store in the Refrigerator – For best flavor, use within three or four months.
Use good quality vinegar – Just like wine – the better the vinegar, the better the finished product will be!
Experiment – there are all sorts of vinegars – rice, cider, red and white wines, and even champagne vinegars. Each will bring its own individual characteristics to the final infusion of herbs and vinegar. See our Flavored Vinegars and Oils for more suggested flavor combinations.
Use fresh herbs – they will produce the strongest, pure taste.
Caution: – If you have never used an herb before and have allergies, consult your physician to make sure that you can use it without a reaction.
Adapted from the article, "How to Make Flavored Vinegars" from wikiHow.com, by
Creative Commons Attribution-NonCommercial-ShareAlike 2.5 License.