Last updated on December 11th, 2022 at 03:12 am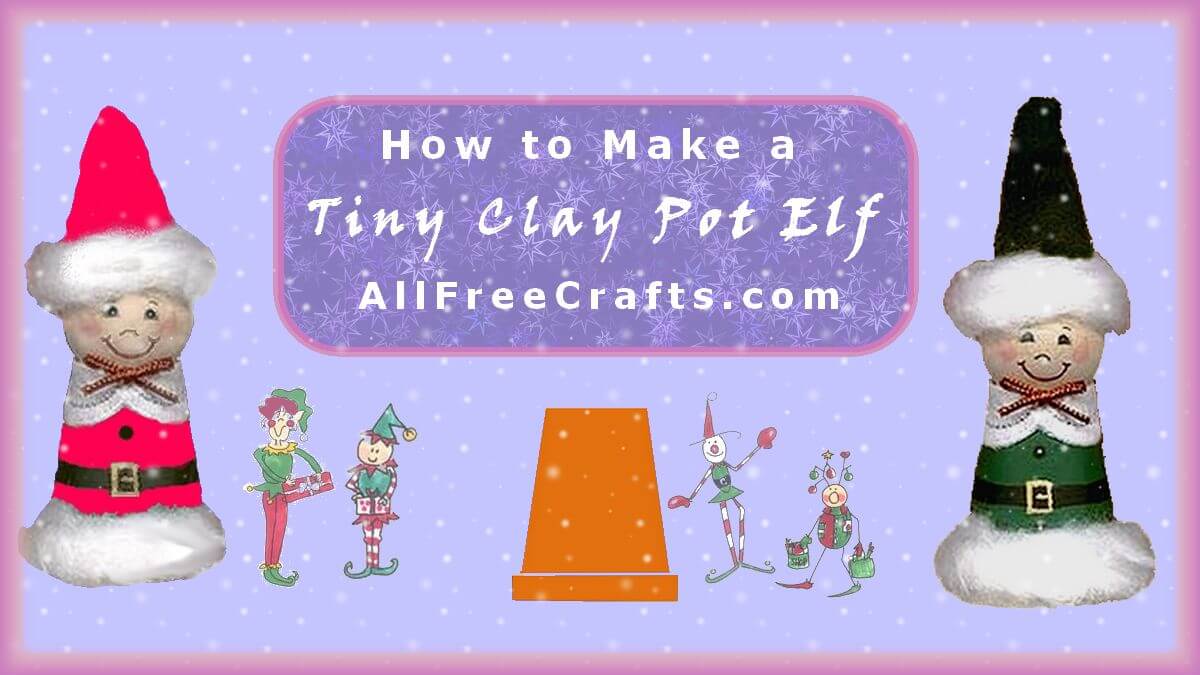 Santa's Helper Tiny Clay Pot Elf
Use a small clay pot as the base to make this cute little elf ornament. You'll find it perfect to add to the tree or for Christmas decorating.
Craft Supplies: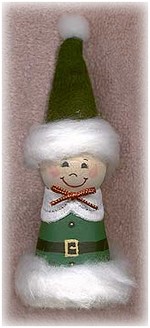 1½ inch clay pot
1¼ inch wood doll head
Green felt
Faux fur (I used fur from a dollar store santa hat)
½ inch white pompom
Hot glue gun and glue
Eyelet lace piece
Paint brush
Acrylic Paints: Green, Black and Gold
Coloured pencils
Ribbon scrap
Scissors
Jingle Bell (optional)
Project Instructions:
Paint your clay pot green inside and out and set aside to dry. Cut Elf Hat Pattern from green felt and fold in half with straight edges together. Glue two straight edges together at seam, to create a cone shape. Turn cone right side out to hide seam inside.
If you decide to add a jingle bell, string a jingle bell to a piece of ribbon, feed the ribbon through the inside of the pot up through to outside bottom. Secure the ribbon ends to the outside pot bottom with glue. Glue the wooden doll head to the bottom of clay pot. Next, glue the felt hat to the top of the doll head. Finish the hat, if desired, by gluing a white pompom to the tip of the hat.
Paint a black line around the pot to create a belt and two dots for buttons. A small square of gold paint makes the buckle and paint two smaller gold dots to highlight the black button dots. Add a gold line at the centre right of the belt buckle inside. Allow the paint to dry.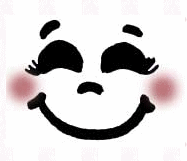 Glue faux fur around the hat and clay pot top as shown in the photos. Add eyelet lace around the neck area, gluing the seams at the back and securing the seams with a little hot glue. Glue a small bow to the front center neck.
Use colored pencils, and follow the face diagram, shown at right, to draw eyes, eyebrows, nose and mouth. Lightly shade cheeks with red pencil.
Variations:
These tiny little clay pot elves also look very cute done with red felt and red paint in place of the green.
For the elf fans out there, please check out my Recycled Light Bulb Elf which includes a printable pattern, our Alphabet Block Elf which also has a Santa version, and also Mini Pinecone Elves which are small but versatile because you can pose them in various ways thanks to the chenille stems used for the arms and legs.
Copyright © 1999-2022 Susan Spatone All rights reserved. Published with permission from CraftAtHome.com
Recommendations from Around the Net