Last updated on October 10th, 2015 at 02:06 am
Angel Button Pins
There are lots of angel buttons to choose from these days; pick your favorite and turn it into an homemade guardian angel pin in this easy craft project.
Craft Supplies:
Decorative angel button
Crafter's Goop or E6000 Glue
Push Pin Assembly (can be found in the jewelry section of craft shops)
Wire Cutters
Sand paper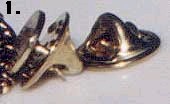 [xyz-ihs snippet="AFCembed"]Craft Project Instructions:
These beautiful pins are very easy to make and inexpensive too.
If you're making this as a little gift for someone special, you might also like to include the printable Guardian Angel psalm.
Photo 1 shows the type of pin used and Photo 2 shows how to assemble them.
The first thing you need to do is remove the button loop at the back of the button. To do this, cut the loop off, as close to the button back as you possibly can, using wire cutters. The loops are usually very easy to cut off and require little effort.
You will have a little sharp edge where the loop was. Using a little sandpaper, gently sand away the sharp edges. The sharp edges will remove quickly, so go slowly.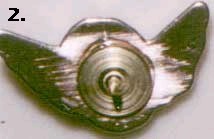 Glue the pin assembly to the back of the pin as shown in Photo 2.
Allow your glue to dry at least 24 hours before wearing these pins.
These make wonderful Mother's Day gifts!
Copyright © 1999-2015 Susan Spatone All rights reserved.