Last updated on December 26th, 2015 at 01:29 am
Christmas Cardinal Recycled Light bulb Craft
by Jane Lake
Reuse a burned out light bulb to make this Christmas cardinal recycled light bulb craft. Of course, tiny blue jays or small Christmas flowers could be substituted as decorations – just use what you have or pick a theme that is personal to you.
You Will Need:
One burned out light bulb
gold rick rack or ribbon
small cardinal, bluebird or your choice of theme decorations
rubbing alcohol
gold spray paint or acyrlic paint
gold bead pick or small gold floral spray
two silk leaves
tacky craft glue
cord for hanger
gold colored bottle cap that will fit over the metal threading on the bulb(wine bottle cap works well)
cotton balls or small amount of batting
[xyz-ihs snippet="AFCembed"]
Instructions:

1. Clean the light bulb thoroughly with rubbing alcohol to help the paint adhere to the glass. Spray with gold spray paint, or brush on gold acrylic paint. Let dry and apply a second coat of paint if needed.
2. Punch a hole in the center of the metal bottle cap and thread folded cord through the hole, leaving two ends to tie in a knot on the inside of the cap. Tie a large enough knot that the cord won't pull through, then trim excess cord.
3. Apply craft glue liberally to small cotton balls or batting. Put a small piece of glue-coated cotton inside the bottle cap and push it down over the knot. Place the bottle cap over the threaded metal part of the bulb and stuff more glue-coated pieces of cotton or batting between the side of the cap and the metal bulb threads with your fingers or popsicle stick. Adjust position of the bottle cap so that it looks straight and allow this to dry in place.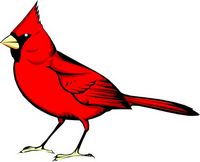 Pin
4. Glue several rounds of gold rick rack, ribbon or trim around the bottle cap with tacky glue.
5. Glue two silk leaves to the light bulb. Use the photo as a guide.
6. Glue on a small gold bead pick or your choice of a floral pick.
7. Glue on the small cardinal, bluebird or your choice of decoration and hang on your Christmas tree!