Last updated on April 9th, 2021 at 12:18 am
Decoupage a blown-out light bulb with pretty paper; add Christmas greenery and a touch of sparkle. Do you think others will guess the humble beginnings of your one-of-a-kind Christmas craft?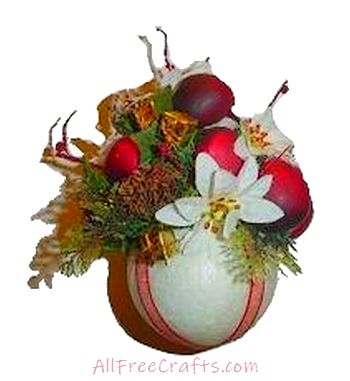 Recycled and Decoupaged Christmas Light Bulb
by Gloria Deeser
Supplies you will need:
burned out light bulb
mullberry paper (you can substitute tissue paper or wrapping paper if you prefer)
Christmas florals and greenery
small Christmas decorations, including small artificial apples and pine cones
thin ribbon
fishing line or transparent thread
hot glue gun
modge podge – shiny or matt finish
DIY Project Instructions:
1. Make sure the light bulb is clean. Wipe with rubbing alcohol or glass cleaner to make sure the glue will stick properly.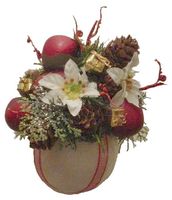 2. Tear paper in small shapes and decoupage it onto your bulb, using at least two layers. It is not necessary to allow drying time between layers. When the bulb is completely covered, decoupage your ribbon starting at one side of the bulb, round the bottom and up the other side. Use two pieces of ribbon, wrapping the bulb like a package. Set aside to let dry completely before adding decorations.
3. Cut pieces of Christmas greenery, all about the same size, and hot glue these them around the top, hiding the threaded stem of the bulb completely. A six foot Christmas swag or garland provides enough greenery for many light bulb decorations.
4. Accent the greenery with pine cones, miniature apples, tiny Christmas packages, or whatever small decorations you have on hand.
5. Finally, cut a piece of fishing line to make a loop as long as needed for the bulb to hang from your tree. Knot the loop and hot glue it to the metal part of the light bulb.
Tips:
There are many things you can do with this craft. If you like sparkles, try sprinkling glitter on the paper when it is still wet, or spray the entire ornament with glitter spray to give it a little extra zing. Gold webbing can also be sprayed on for a vintage look.
You might also like to try a monochrome theme, using paper, florals, leaves and decorations in various shades of a single color.