Last updated on December 26th, 2015 at 01:16 am
A Trash to Treasure craft project! Recycle your old jeans into miniature denim pocket purses. A best selling bazaar craft.
By Jane Lake and Twila Lenoir
Twila says,  "I made these for my daughter's Christmas bazaar at school and they sold them all."
Craft Supplies: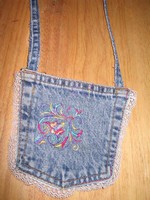 Pin
Old pair of jeans, childrens or adult
Pretty lace
small silk flowers
Ribbon
String of beads
Hot glue gun
Instructions:
Cut out the pocket from the jeans, front and back so when its cut out it has an opening at the top.
Glue lace all around top of pocket make sure you don't glue opening shut.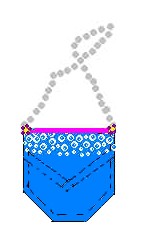 Glue ribbon all around front and back side.
Put the silk flowers on top of corners.
Glue the stringed beads onto the inside of pocket. Done!
Variations:
This project lends itself to individual creativity, as the photos at right clearly illustrate.
They were contributed by Cindy, a member of the WasteNothing Yahoo group, who kindly consented to share these photos.
These lovely denim pocket purses are just two of the many variations possible with different trimmings, embroidery or embellishments.