Last updated on June 16th, 2016 at 11:19 pm
How to Make Sports Magnets to Give to Dad on Father's Day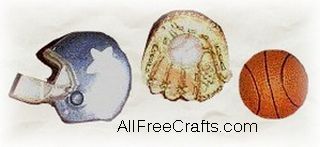 by Twila Lenoir
Use soap molds to make these unique sports magnets for Dad. Perfect for homemade gifts to present to Dad on Father's Day or Christmas Day!
Supplies:
plaster (plaster of paris or similar)
magnets
A mold in a sports theme (we used a soap mold)
Acrylic paint, 1 metallic for the mitt
Red and black permanent magic markers
Gloss finish except for the basket ball.
Instructions:
1. Follow the directions for making plaster of paris, or the craft plaster brand that you have in hand.
2. Pour plaster into your choice of mold, let dry and pop out.
3. Paint in appropriate colors and let the paint dry. Draw on details with magic markers or permanent marker pens.
4. Seal with a gloss finish (except for the basket ball, which looks better with a matte finish).
5. Glue a fridge magnet on the back of your sports magnet.
6. Enclose in a small box, or simply wrap and give to Dad for Father's Day!