Last updated on June 16th, 2016 at 11:52 pm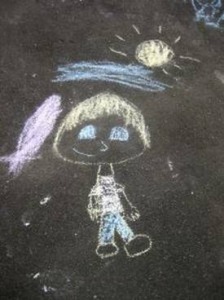 PinSidewalk chalk drawings are fascinating; they are obviously temporary, being subject to erasure at any moment from foot traffic or rainfall, yet while they exist, these unique chalk drawings tell a story all their own.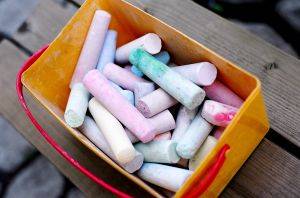 Pin
The artist is most often a child, and the drawing may represent a hopscotch game, a sunny day, a moment in time, a single person, an entire family – or a graphic life scene by a child artist.
Regardless of the subject, the message on the pavement is magical, representing childhood itself – a temporary state of being that we all experience, pass through, and remember well.
by Jane Lake
Chalk Recipes on the Net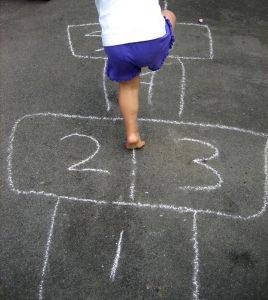 PinIt seemed to me that sidewalk chalk would be neat to make myself, so I tried some chalk recipes from the net. At first, I was hopeful about chalk recipes using ground up eggshells, but on my third try, decided it wasn't going to work for me. Perhaps I didn't grind up the eggshells enough; a fine eggshell powder should work, I think, given that the shells are mostly chalk already. Please let me know if it works for you!
Meanwhile, here's the best homemade sidewalk chalk recipe that I've found so far:
Homemade Sidewalk Chalk Recipe
Two parts plaster of paris
One part water (or just a little less)
Coloring of some sort – this could be powdered or liquid tempera paint, food coloring, or acrylic craft paints, mixed in to a level that provides the color you want
Measure the plaster of paris into a bowl (margarine tubs work well), then gradually add warm water, stirring to combine. Add coloring, then allow mixture to thicken. Add more water, if required, to the consistency of thick frosting.
Chalk Molds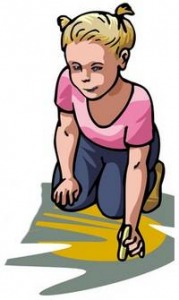 Pin
Molds can vary from paper towel rolls (cut to desired length and covered on one end with plastic wrap, foil, duct tape or something similar), muffin or cupcake pans, dixie cups, cookie cutters, small sand molds, soap molds, ice cube trays film canisters, clean prescription pill bottles or popsicle molds. Line tubular molds such as popsicle containers with waxed paper before filling and the dried chalk should slide out easily.
It may take several days for your homemade chalk to harden.
Caution: Making chalk is a messy business; you might want to cover your work surface with newspaper before you begin.
Important: Avoid breathing in the dust of plaster of paris and follow all safety precautions written on the box.
Suggestions:
» Smaller colored chalks in fancy shapes, such as those made in soap molds, make nice party favors.
» With a little supervision, sidewalk chalk is also a neat homemade gift that even younger children can make themselves. Rescue a plastic bottle from the recycle bin (i.e. majo or peanut butter jars) and fill with an assortment of different colored chalks. Or wrap a bunch in a circle of tulle or nylon netting and tie with curling ribbon.
» Don't forget to keep some chalk for yourself; you'll need some to create your own sidewalk art or hopscotch grid!