Last updated on October 25th, 2015 at 07:34 pm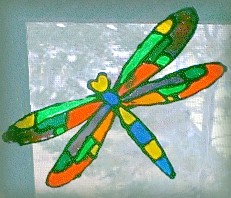 Pin



Let beautiful colors shine through your window as they filter through this easy-to-make faux stained glass dragonfly.
by Twila Lenoir
You are welcome to use our free printable pattern and stained glass paint recipe to make this window decal. Static cling will make it will stick to a window and it will look just like stained glass![xyz-ihs snippet="AFCembed"]
Craft supplies:
white glue
food coloring
liquid lead paint or pewter fabric paint
glass from an old picture frame
plastic or disposable cups
popsicle sticks
Instructions:
1. Print out the dragonfly pattern at the printer resolution needed to create a pattern in the size that you want. If you would like to try a different design, check out the free stained glass patterns at Spectrum Glass and print one out.
2. Put the printed pattern on a table, then place the picture glass from an old frame on top. Trace the pattern outlines with liquid lead or pewter fabric paint and let dry.
3. Put about a tablespoon of white glue in a disposable container and add a drop or two of food coloring, mixing well with a popsicle stick. Don't overdo the food coloring because you want the glue part of the mixture to dry clear, leaving behind a color similar to stained glass.
4. Make pots of other colors in the same way, mixing the food coloring if necessary to obtain different shades i.e. blue and red for a mauve color, or red and yellow for orange.
5. Using a popsicle stick, spread the glue coloring in a thick layer, almost as thick as the lead outlines, filling in the empty space of your design with different colors. If the area is tiny, use a toothpick to spread the glue mixture.
6. Let the dragonfly (or your design choice) dry overnight on the glass. When it is sufficiently dry, slowly peel the window decal off the glass. Now you can stick it easily to a house window, car window, mirror or almost anything made of glass. When you want to change the look, just take it off and make a new one.
Tips:
» A preschool teacher suggests that, instead of using picture frame glass to paint on, laminate the pattern outlines, which can then be painted over repeatedly.
» Children's coloring books are a great source of many outlined pictures suitable for this craft project.
For more information on dragonflies:
Odonato (Dragonflies and Damselflies
Distribution, diversity, identification and photos of dragonfly species around the world.
British Dragonflies Society
Working to conserve dragonflies and their wetland habitats.
Wikipedia – Dragonfly
Definition, description, photos and historical significance of dragonflies.