Last updated on January 9th, 2015 at 10:56 am
Glass paints make it possible to create all kinds of faux stained glass effects.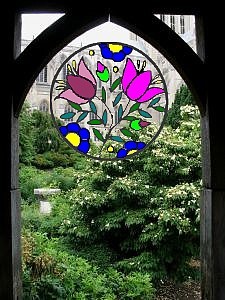 Pin
In this example, you paint the design on a glass picture frame – but there's nothing to stop you from painting it on plexiglass, or a clear plastic sheet protector or transparency, then cutting out the design once it is dry to fasten to a window.
Craft Supplies:
glass paint, in your choice of colors
liquid leading
glass picture frame
printed pattern (or your choice of pattern)
Caulking
2 small nails
wire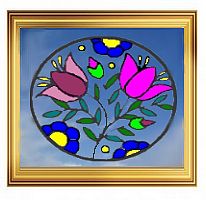 PinCraft Instructions:
1. Print out the pattern that you have chosen, adjusting the picture size to fit the size of your picture frame.
2. Tack two small nails to the back of the picture frame, placing one in each top corner.
3. Remove the backing from the frame and slide the pattern under the glass.
4. Begin tracing the pattern with liquid leading and let dry. Fill in the design with your choice of colored glass paints and let dry.[xyz-ihs snippet="AFCembed"]
5. Remove the pattern. Caulk around the gap at the back of the frame so the glass is held in place, and let the caulking dry.
6. Wrap a length of wire around each of the nail heads to form a hanger. Hang in a sunny window. Enjoy!