Last updated on October 31st, 2015 at 02:13 am
How to make a Smiley Snowflake from Craft Foam
by Jane Lake and Twila Lenoir
Use our free pattern to make a smiley snowflake to trim your Christmas tree.
Smiley Snowflake Craft Supplies:
white craft fun foam
small goggle eyes
tacky craft glue
2 tiny pink pompoms or pink blusher
black or red marker
paper punch
scissors
string

Fun Foam Snowflake Instructions:
Six Simple Steps:
Print the free smiley snowflake pattern, shown at right, and cut out the pattern. Use this paper snowflake to trace the pattern onto white craft fun foam. Make two identical patterns and cut them both out of the fun foam.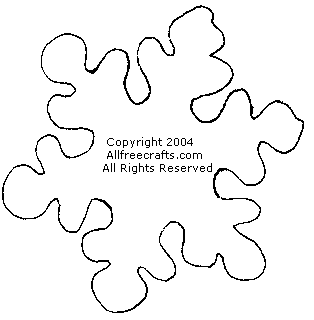 Pin
Next, place one snowflake over the other, offset so that the points of the snowflakes do not overlap. Check the photo and use this as a guide. Glue the two snowflakes together with tacky craft glue.
With the paper punch, make a hole at the top of the snowflake. Glue on two small goggle eyes (or draw your own eyes).
Glue on two small pink pompoms for cheeks. If you don't have any pompoms, you can smudge on a very small amount of pink blush makeup as cheeks, or color lightly with pink paint or crayon.
Finish your Smiley Snowflake Christmas Ornament by using a black or red marker to draw on a smile. If you wish, you could also dust on white glitter for added sparkle.[xyz-ihs snippet="AFCembed"]