Last updated on February 21st, 2016 at 11:43 pm
Use pompoms and craft foam to make this cute bunny bookmark to mark your place in the Easter books you read.
Craft Supplies:
White craft foam
Pink marker or paint
Large white pompom
2 Small white pompoms
1 Small pink pompom
White embroidery thread
2 black beads or wiggly eyes
Tacky glue
How to:
Cut a bookmark shape from white craft foam. At one end of the white foam piece, glue a large white pompom. Glue together two small white pompoms and one small pink pompom. This will be the bunny's nose.
Cut a small strand of white embroidery thread and glue to the white pompom, where the nose will be. On top of the embroider thread, glue the two white and one pink pompom that you previously glued together. This will make the bunny's whiskers and nose.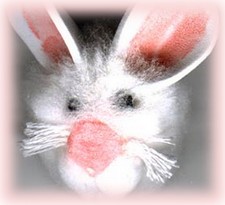 Pin
To make the ears, cut two dome shapes (like a U shape that is upside down). Paint the centre of your dome shape with a little pink paint or marker. This will create the inside highlight on the ears.
Glue the dome shape together at the of the U and then glue to the large white pompom.
Glue two black beads or wiggly eyes in place, as shown in our photo. Enjoy your Easter reading with the book bunny!
[xyz-ihs snippet="AFCembed"]
Copyright © 1999-2016 Susan Spatone