Last updated on March 5th, 2016 at 11:40 pm
Wrapped in Lace Hanger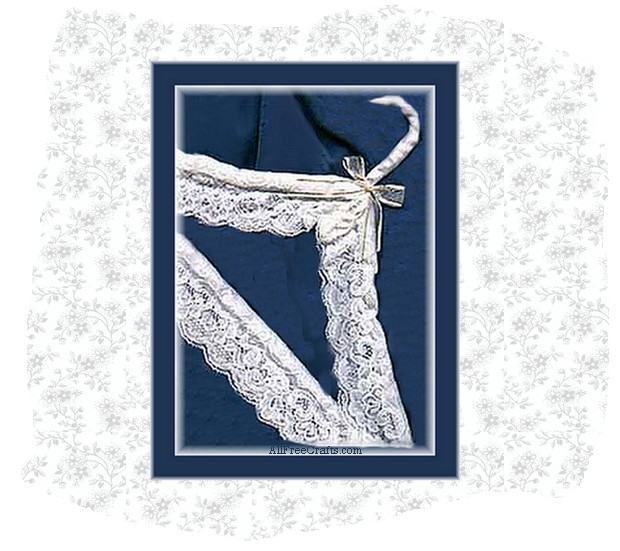 Pin
Strictly feminine, trimmed with lace and satin ribbon, this is a great way to recycle and give new life to old clothes hangers!
Material:
1 Inch Wide Satin Ribbon
Lace of Choice [5 inch lace used here]
Matching Thread
Sewing Needle [ballpoint recommended]
Organza or Other Decorative Ribbon of Choice
Quilt Batting
How to: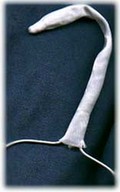 Cut a piece of Ribbon that is long enough to reach from the tip of the hanger to the base of hanger loop. With the right sides
of the ribbon together lengthwise, sew along the edge and one end. Using
a pencil or similar tool, turn piece right side out. Do not place over hook
just yet.[clear]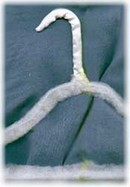 Wrap a strip of batting around the entire hanger, including the hook and stitch in place to secure. Pull the ribbon strip over the hook section .[clear]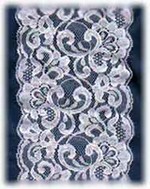 Pin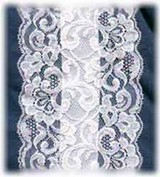 PinCut a piece of lace that measures the entire span of the area of your hanger that you wish to cover with lace and add a few inches [I used approximately 1 meter of lace for this.] To the centre wrong side of the lace, sew a strip of 1 inch wide ribbon down the entire piece of lace [refer to diagram]. Stitch the 2 ends of the lace together [right sides together] leaving a small opening at the center of the seam.[clear]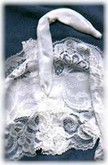 You now have a loop of lace with the ends joined together. Pull the lace loop [at the seam] over the hook of the hanger with the right side of the lace facing up.
Fold the lace together [wrong sides] to cover the entire hanger and run a stitch around the entire hanger to secure. Be sure to stitch the hook ribbon securely to the lace section of the hanger.[clear]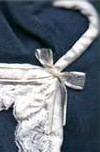 Tie a small bow around the neck of the hanger and secure with a couple of stitches.
Copyright © 1999-2016 Susan Spatone All rights reserved.
Published with permission from CraftAtHome.com