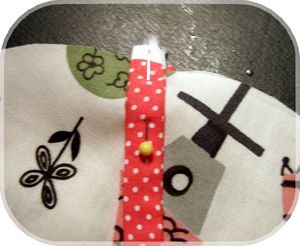 Pin
Learn the Easy Way to Sew and Turn Fabric Straps
Here's how to sew and turn narrow fabric straps for a dress, purse or other sewing project.
The turning technique can also be used to turn other small pattern pieces, such as the arms and legs of a doll or teddy bear pattern.
An alternative, shortcut turning technique is also described at the end of the step-by-step sewing tutorial.
Sewing Instructions:

1. Select and cut the fabric for strap.
Lay some piping cord, ribbon or old shoe lace on the right side of the fabric.

2. Fold the fabric across the cord and line up the edges.
Sew across the end of the fabric, making sure to catch the piping cord.

3. Sew along the length of the strap with the piping cord on the inside. Do not catch the piping cord in the seam.[clear]

4. Hold the end of the strap gently in one hand and begin to pull the piping cord with the other.[clear]

5. The strap will start to gather along the piping cord.

6. Ease the end inside itself.[clear]

7. Pull the entire strap through itself, until it is right side out.[clear]

8. Snip off the piping cord from the end[clear]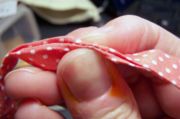 9. Prepare strap for ironing by wetting your fingers slightly and rubbing the fabric back and forth to ease the seam to the edge.[clear]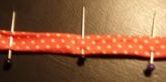 10. Pin it as you go in preparation for ironing.[clear]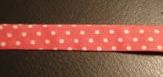 11. Iron your strap.[clear]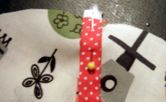 12. Sew the strap to your project, following your pattern directions.
Alternative Method to Turn a Fabric Strap
In a pinch, a simple safety pin can be used to turn a fabric strap. If the strap is very thin, use a small gold safety pin; if the strap is wider, use the largest safety pin that you can move through the fabric tube.
Simply attach the safety pin to one end of the strap, with the closed end of the safety pin pointing inside the tube. Use your fingers to move the safety pin through the tube, so that the end is gradually drawn through the inside. Once the safety pin emerges from the other end, pull it gently until the tube is turned completely, so the right side of the fabric faces out. Done!
Adapted from the original wikiHow article on How to Sew and Turn Narrow Shoulder Straps, under Creative Commons license 2.5.