Last updated on March 1st, 2018 at 10:31 pm
How to Make Mint Sauce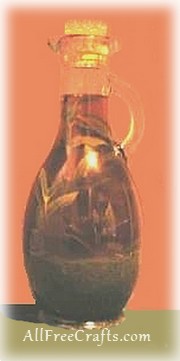 PinBy Jane Lake
Making mint sauce to go with roast lamb was a Sunday tradition in my family when we lived in England. Our mint patch occupied a good sized corner of the garden, and mint was freshly picked, chopped with a little sugar, and added to malt vinegar to make the mint sauce.
Mint sauce also makes an excellent condiment to use with lamb chops, pork chops, and to flavor new potatoes and peas. A new use for mint sauce in my family arose from the blandness associated with frozen T.V. dinners – add a spoonful of mint sauce after heating a beef, turkey or salisbury steak T.V. dinner and the flavors are enhanced wonderfully.
As a herbal vinegar, mint sauce makes an appealing gift in a jar recipe. It is very inexpensive and simple to make – yet is often pricey to buy, usually being imported from England and stocked with the speciality items.
English Mint Sauce – A Gift in the Jar Herbal Vinegar!
Ingredients:

1/2 cup finely chopped fresh mint leaves
1 cup malt vinegar
2 tablespoons white sugar
small bottles for storage
How to:
PinRinse young, healthy mint leaves, strip from the stems, and chop into fine pieces. I usually process most of the leaves in the blender, with a little of the vinegar, leaving some aside to chop by hand. The leaves chopped in the blender will be very fine, and infuse a fine flavor, while those done by hand are a little coarser and will be more visible in the decorative vinegar jar.
Bring vinegar to a simmer in a small saucepan, add sugar and chopped leaves. Simmer for about 20 minutes to infuse. Add more sugar or add a little water to taste, depending on how strong or how sweet you want the sauce. (I add no extra water or sugar to this recipe, but you may prefer a less strong infusion.)
You can reuse lots of different bottles for mint sauce; I've used bottles and jars that once contained steak sauce, olive oil, baby food and salad dressings. Tall narrow jars look elegant, but short, squat jars allow you to use a spoon to serve the mint sauce. Make sure the bottles are free of nicks or cracks and sealable with either a screw top or cork.
Pin
Wash containers thoroughly, then sterilize by immersing the jars in a pan of hot water and simmering for 10 minutes. Once jars are sterilized, remove from the simmering water and invert on paper towel to dry. Fill while the jars are still warm and seal tightly. If using corks and you intend to store the vinegar for an extended time, seal the corks by dipping in paraffin; if using a screw top, place a small square of waxed paper on top of the jar before screwing the lid on tight.
You can add a small fresh sprig of mint to your jars, if you wish, for visual appeal – just insert into the jar before adding the mint sauce. Use a funnel to add the sauce, stirring as you pour it into the funnel to make sure you get lots of mint leaves mixed with the vinegar. You'll find that the mint settles to the bottom of the jar, so the mint sauce should be gently shaken or stirred before serving.
Vinegar has natural preservative qualities, and mint sauce should keep for 2 to 3 months in cold storage or for 6 to 8 months in the refrigerator.