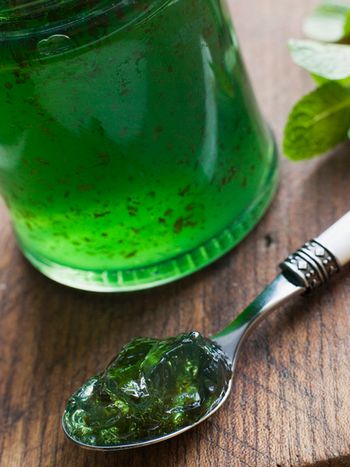 Pin
How to Make Homemade Mint Jelly
By Jane Lake
Mint jelly is a versatile condiment, which makes it a natural gift in a jar. Traditionally used as an accompaniment to lamb, mint jelly also complements ham or pork very well. For guests, serve a dollop of mint jelly on the top of a pear or peach half for a refreshing taste and pleasing gourmet touch on the side of each dinner plate.
Easy Mint Jelly Recipe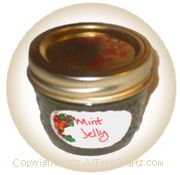 Pin
~ Subtly combining the flavors of fresh sprigs of mint, apple juice and sugar.
1 cup of mint leaves, washed, then dried on paper towels
4 cups apple juice
4 cups white sugar
1 box powdered pectin
5 or 6 drops green food coloring
Combine mint leaves, apple juice, food coloring and pectin in a large saucepan. Bring to a boil and stir in sugar until dissolved. Boil for two minutes, remove from heat and skim off foam. Pour into sterile jars, leaving 1/8 inch headspace. Wipe jar rims, adjust lids and rings. If desired, process in a hot water bath for five minutes.
Note: You can finely chop the mint leaves and leave them in the jelly, or wrap the whole leaves in a cheesecloth bag and remove before packing the jelly in jars.
Mint Jelly Video Tutorial
This video shows how to make mint jelly using one cup of fresh mint leaves, 2 cups of boiling water, 3 tablespoons of lemon juice, 3-1/2 cups of sugar and 3 drops of green food coloring.

If you are new to canning, watching the process step-by-step can be useful to unravel such mysteries as mashing the leaves, sieving the infusion, skimming the foam, and water bath processing.
The four jars of clear mint jelly that result from this recipe look beautiful!