Last updated on November 12th, 2014 at 07:33 pm
How to Make Dandelion Syrup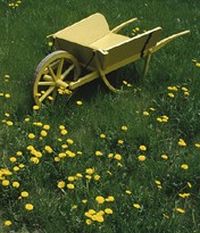 PinBy Jane Lake
I first made dandelion syrup when my kids were preschoolers and we woke one morning to find the lawn full of dandelions. I never used weedkiller on my lawn, and the dandelions were there for the picking, so…we gathered up buckets of dandelion heads and made a new syrup for pancakes and waffles. The kids were enchanted, and it's still one of their favourite memories.
You can use the syrup pretty much as you would a traditional sugar syrup or maple syrup – as a delicious sweet note for french toast, pancakes or other delectables.
Here are two recipes for dandelion syrup, plus an uplifting essay and an informative video on the subject of the lowly dandelion weed.
Dandelion Syrup
Put 250 dandelion flower heads* in a large kettle. Squeeze the juice of one lemon into the kettle, and add 4 cups of water. Bring to a boil, cover kettle, and simmer for one hour. Remove from heat and leave the kettle covered overnight.
Strain the dandelion mixture and add 2 lbs of white sugar to the remaining liquid. Boil for one and a half hours to a syrup consistency. Wipe any spills from the stove immediately (or you'll need a chisel to remove it!) Store in a tightly sealed jar in the refrigerator.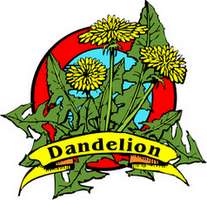 Pin
Dandelion Syrup Deux
4 cups dandelion tops*
juice of 1/2 lemon
1 quart water
2 pounds sugar
Place tops in water and bring to a boil. Let boil for one minute, cover, and let stand overnight. Next day, strain and extract excess water. Discard flower tops. Mix with lemon juice and sugar and simmer until most of the water evaporates. Do not bring to a hard boil.
Let mixture cool, then simmer once more until the thickness of maple syrup. Good for pancakes and flapjacks.
* Be sure to use only dandelions that have not been exposed to pesticides, lead, herbicides or other chemicals. This includes dandelions growing on the side of roads. Unless you are sure that the flowers are chemical free, don't use them!
Watch a Video on the Edible and Medicinal Uses of Dandelions. The dandelion is known as a natural multivitamin, and the following video is a great introduction to eating and using all parts of the plant as part of a healthy diet and lifestyle.

Lessons from a Dandelion
by Donna Doyon
I recall as a young child bringing bouquets of brilliant yellow flowers to my mother. It didn't matter that the stems felt sticky or that both my parents cursed the presence of these flowers in the lawn. I thought they were beautiful!
And there were so many of them! We spent hours picking the flowers and then popping the blossoms off with a snap of our fingers. But the supply of dandelions never ran out. My father or brothers would chop off all the heads with the lawn mower at least once a week, but that didn't stop these hardy wonders.
And for those flowers that escaped the honor of being hand delivered to my mother, the horror of a childish sing-song game of "Mama had a baby and its head popped off" or the sharp blades of the lawn mower, there was another level of existence.
The soft, round puffs of a dandelion gone to seed caused endless giggles and squeals of delight as we unwittingly spread this flower across the yard.
As I worked in my garden last week, pulling unwanted weeds, I wish that I had the staying power of a dandelion.
If only I could stretch my roots so deep and straight that something tugging on my stem couldn't separate me completely from the source that feeds me life. If only I could come back to face the world with a bright, sunshiny face after someone has run me over with a lawnmower or purposely tried to destroy me. If only my foliage was a nutritious source of vitamins that help others grow. If only I could spread love and encouragement as freely and fully as this flower spreads seeds of itself.
The lawns at my parents' home are now beautiful green blankets. The only patches of color come from well-placed, well-controlled flowerbeds. Chemicals have managed to kill what human persistence couldn't.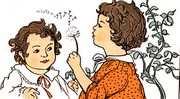 I hope you and I can be different. I hope that we can stretch our roots deep enough that the strongest poison can't reach our souls. I hope that we can overcome the poisons of anger, fear, hate, criticism and competitiveness. I hope that we can see flowers in a world that sees weeds.