You can count on my friend Mark to bring joy to any occasion, which is why he gave me this easy recipe for beautifully colored deviled Easter eggs to share with you.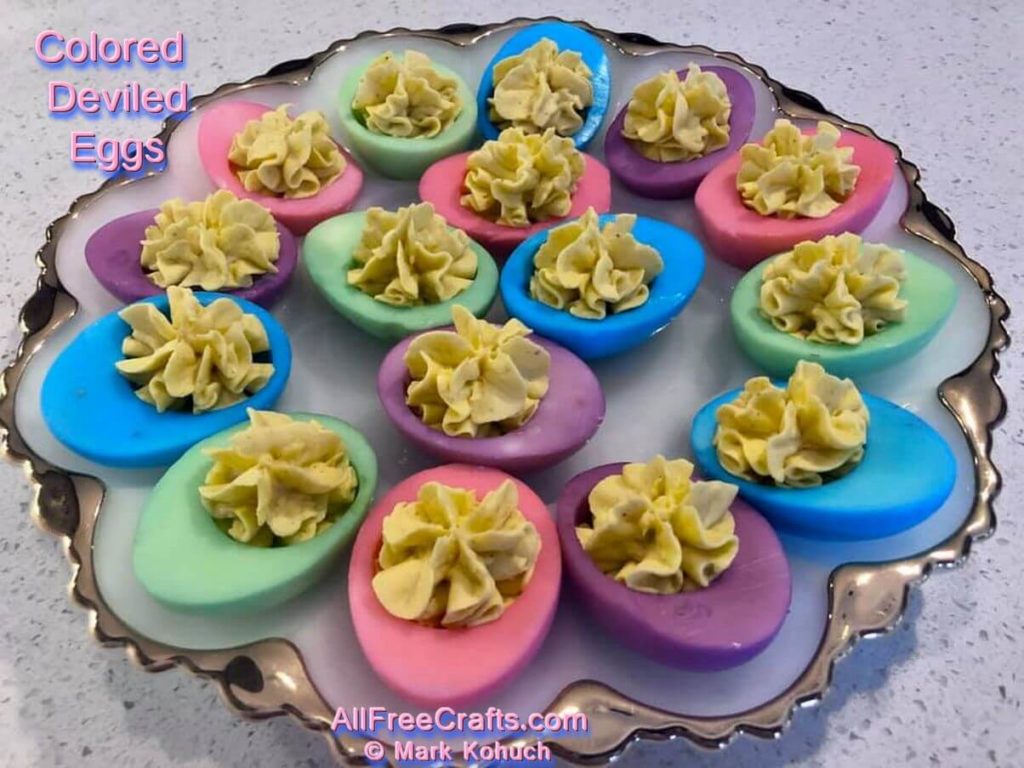 Many families are celebrating Easter this year "apart, but together". Although this means missing the laughter around a crowded Easter dinner table, we can still share uplifting moments for Easter weekend – and that includes preparing this simple platter of colored deviled eggs.
It's an easy, eye-catching recipe! Here's how:
Beautifully Colored Deviled Eggs
How to make beautifully colored deviled eggs for Easter or other occasions, using hard-boiled eggs and food coloring.
12 large eggs
¼ cup mayonnaise or salad dressing
1 tsp white vinegar
1 tsp prepared mustard
⅛ tsp salt and pepper (or to taste)
water
Place the eggs in a large saucepan and cover with water. Bring to a boil, then boil for 15 to 20 minutes. Drain off the water.

Add cold water to the saucepan and let stand for 2 to 3 minutes. For faster cooling, add some ice cubes to the water.

To remove the egg shells, gently tap each egg on the counter top to crack the shell all around. Place the egg in water, or under running water, for just a few seconds, then roll it between your hands. Peel off the egg shell, using the handle of metal spoon to begin the process, starting at the large end.

Scoop out the yolks and place the yolks in a medium bowl, along with the mayonnaise or salad dressing, vinegar and mustard. Add salt and pepper to taste. There are many different variations of deviled eggs; go with your family favorite. Use a fork to mix all the filling ingredients together and set aside.

Set out four bowls and fill each one with about a cup of water. Add five or six drops of food coloring to each of the bowls. Use a combination of yellow and blue if you don't have green, or a combination of red and blue to get lavender or purple shades.





Divide the egg halves between the four bowls making sure the eggs are covered by the colored water. Place in the fridge for about an hour. Check after half an hour. If the color isn't strong enough, add a few more drops of food coloring and return to the fridge for another half hour.

Once the eggs are beautifully colored, remove them from the bowls and pat each one dry with a paper towel or clean tea towel.

Place the filling in a piping bag fitted with a Wilton 1M tip or your choice of tip. Pipe the filling into the center of each egg. Alternatively, carefully pile the deviled egg filling into the middle of each egg using a spoon.

If desired, garnish with snips of fresh parsley or chives.




Plain Boiled Eggs
You might want to include some plain boiled eggs on the plate for variety and to suit every taste and palate. Or even add some Boiled Egg Bunnies just for fun!
Wherever you are spending Easter this year, I wish you well. Stay safe out there!