Last updated on February 17th, 2015 at 04:48 pm
Don't throw your old toothbrushes away – use them to make homemade speckled Easter eggs with your choice of paints, dyes and colors.
by Jane Lake
This method of decorating Easter eggs is very messy – but lots of fun! Just to be sure to wear an apron and spread lots of newspaper around your work surface to catch the flying paint.
You Will Need:
hard boiled eggs
egg dye
tempra, watercolor or craft paint or food coloring
old toothbrush
Project Instructions: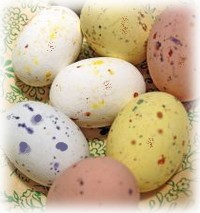 Pin1. If you want to begin with colored eggs, then dye the eggs using commercial egg dye or natural egg dye.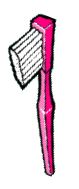 2. Spread newspaper over your work surface. It's also a good idea to protect the front of your clothes with an apron or smock.
3. Dip the toothbrush in a small amount of paint or dye in a contrasting color.
4. Run your finger or thumb over the top of the toothbrush bristles to splatter the eggs with small drops of color.
Variations:
You can wash the toothbrush and use a second or third color to make speckled eggs with lots of different colors.