Last updated on February 20th, 2016 at 11:55 pm
Transfer colors, and even intricate patterns, to the surface of hollow or boiled eggs using easy tie-dye techniques.
by Jane Lake
This is such an easy way to make tie dyed Easter eggs – and very pretty too.
Boil your eggs or blow the eggs out if you wish to keep them permanently.
To blow out an egg:
Poke a small hole in each end of the egg. Use a long needle or skewer to break the yoke. Hold the egg over a bowl and blow hard through one hole until the egg has emptied out of the shell. Rinse with water, let dry, and decorate. See How to Make Hollow Eggs for more detailed instructions.
[xyz-ihs snippet="AFCembed"]
To Tie Die Eggs:
Take a paper towel and dampen the towel with water and vinegar, making sure it is just damp.
Place a piece of plastic wrap under the paper towel.
Drip small drops of food coloring onto the paper towel. Allow colors to drop next to each other so they bleed slightly together. Make sure there is enough area with food color to cover egg.
Wrap an egg in the paper towel and the plastic wrap. The longer you keep the egg in the brighter the egg will get.
Repeat until all your eggs are tie dyed. Every one will be different, but all of them will be pretty!
Silk Tie Dyed Eggs
I also love these Silk Tie Dyed Eggs from OurBestBites.com, with lovely photographs of lots of eggs beautifully colored using men's silk ties bought from the thrift store.
The eggs were securely wrapped in swatches of the colorful ties, then covered again by scraps of white linen or pillowcases, before boiling in water and a 1/4 cup of vinegar for 20 minutes.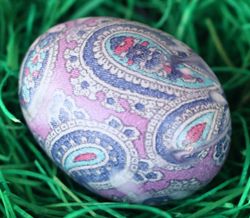 PinMy favorite is this gorgeous paisley patterned egg.
I know my husband would never wear anything remotely like this, and I'd guess many of these fancy thrift store ties were given as gifts but never worn. But you gotta admit, they look great as Easter eggs.