Last updated on February 21st, 2016 at 12:21 am
How to Make an Egg Topiary
There's no doubt that you will need lots and lots of eggs to make this Easter egg topiary – but the effect is so pretty, the effort is worthwhile.
Topiary Supplies:
18 inch foam cone
approximately 31 eggs
Spanish Moss
Hot glue gun and glue
Pedestal Vase
Large Sewing Needle
Large Mixing Bowl
How to:
If you want to make a natural egg topiary using real egg shells, like the one shown at left, then you'll need about 31 brown eggs.
Check out How to Make Hollow Easter Eggs for instructions on how to remove the inside of the eggs and prepare them for crafts.
If you prefer to make a topiary from decorated eggs, you can use hollow eggs that you have dyed, painted or decorated or, alternatively, decorated acrylic or plastic eggs.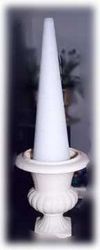 When you have all the decorated eggs ready, you can begin assembling your topiary.
Place the styrofoam cone into your container, pushing down firmly, as shown at right. If the vase or container doesn't provide a tight fit, you may need to glue the cone to the inside of the container.
Once the cone is securely in place, begin gluing eggs to the cone. You can do this randomly or in layers beginning at the bottom. Leave gaps large enough to accommodate Spanish moss between the eggs.
You can hot glue or use floral pins to attach the Spanish moss. I used glue. Fill all open areas of the cone with moss. That's all there is to making a pretty egg topiary for Easter.

[xyz-ihs snippet="AFCembed"]
Copyright © 1999-2016 Susan Spatone