Last updated on December 14th, 2021 at 11:55 pm
This recycled Christmas card project is one that many people remember from the past, but they are just not quite sure of how it was done. Here is the answer and the complete instructions to make an hexagonal card basket from old Christmas cards.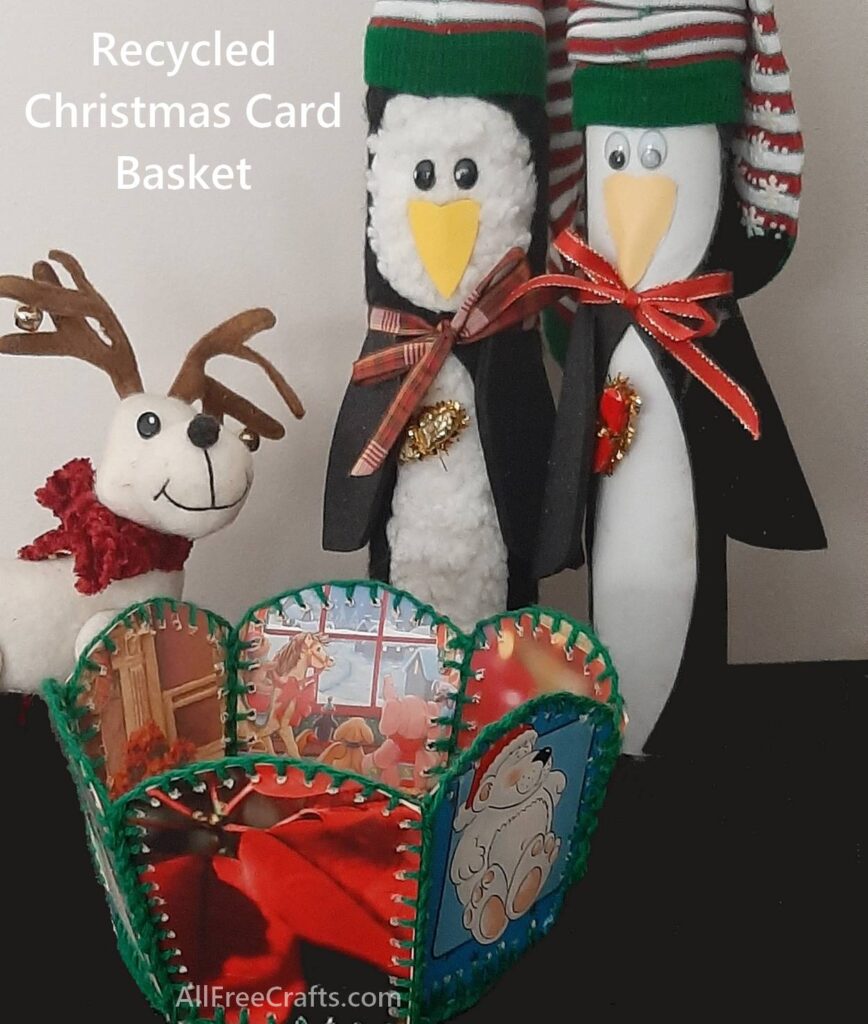 By Jane Lake
Learn how to Make a Christmas Card Basket from Recycled Christmas Cards
Notes: The larger, modern photo of this recycled Christmas card basket was taken in 2020.
I first published the instructions in 2006, which makes the basket that I still take out every Christmas (as of this editing) now 15 years old!
I'm quite proud of that because it means that a Christmas goodies basket made from old Christmas cards is still being used, every year, for 15 consecutive years. These homemade treasures last a long time!
Fill your basket with cookies for Santa (a frequent use for mine) or set out on a side table filled with Christmas treats for the family.
I'm not the inventor of this card project, but I was an early pioneer in distributing free craft ideas on the net, beginning in 2002 when I had no idea how to write HTML code. These days it's easy. And so it should be. But I'm still happy to present something here that I regard as timeless. It will still be useful another 15 years from now and perhaps after that, a key part of the reason that I started AllFreeCrafts in the first place.
So please, celebrate with me! Make a recycled Christmas card basket or look around for something else creative and crafty that appeals to you.
This project is more time consuming than I expected, although my free printable pattern makes it a little easier. I'd suggest cutting out all the card panels, then settling down to finish the rest of the project while watching your favourite Christmas movie.
The finished card basket is sturdy and would look lovely on a hall table filled with scented pine cones or potpourri.
You may also be interested in our free printable paper baskets for just one egg!
Christmas Card Basket – Supply list:
used Christmas cards
white glue
yarn in Christmas colors
computer and printer with paper
small but sharp-pointed scissors, sharp awl or similar item to poke holes through two cards glued together (or paper punch with small round hole)
optional: crochet hook
Project Instructions: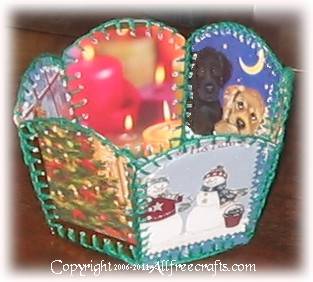 Print the two free printable pattern pieces and cut them out. Trace around the patterns on the back of two old Christmas cards and cut out these patterns to use as templates.
Note: If you don't have a computer printer, you could make your own paper patterns by drawing your own version – each large penciled square equals one inch, so draw a 1″ grid then copy our pattern.
Trace around your templates, then cut out 12 sides and 2 bottom pattern pieces from the front of old Christmas cards. Try to center the nicest part of the card pictures in the middle of each piece.
Glue two sides together, with the pictures facing outwards on each side; do the same for bottom pieces. Let the glue dry.
Sewing the Basket Together
Perhaps the hardest part of this project is poking holes all around the edge of each pattern piece. These are sewing holes used to frame each piece with blanket stitch. I used a large needle to create the holes at first, but then found the sharp tip of some small steel scissors worked better for me. You could also try the tip of small awl or a small round paper punch.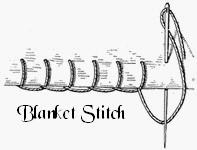 Make the holes about 1/4 inch apart and about 1/4 inch from the edge.
Take your yarn and hand sew a blanket stitch all around each pattern piece. The illustration at right shows how to sew a blanket stitch.
When you have finished edging with blanket stitch, begin sewing all the side pieces to the bottom, then sewing all the sides together.
Your Christmas card basket is now complete. However, if you know how to crochet, you could finish off the top edge with one row of single crochet.