Last updated on November 21st, 2023 at 11:29 pm
Here's a lovely free Christmas crochet pattern – a fragrant potpourri ball, with a pretty crocheted hanger, perfect for hanging on the Christmas tree.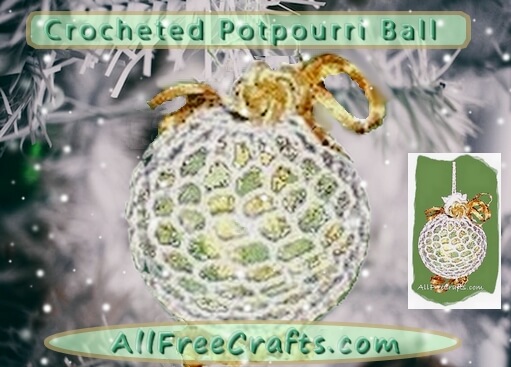 by Twila Lenoir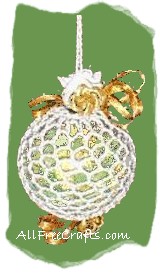 Materials List:
AllFreeCrafts is reader supported! Many craft supplies are available at thrift stores and I actively support recycling so try that first! However, if you purchase from an affiliate link on this site, I do earn a small commission at no extra cost to you. For instance, as an Amazon associate, I earn from qualifying purchases. This has helped me keep AllFreeCrafts.com up and running since 2002. Thank you!
Cotton crochet (I used white with gold running through it)
potpourri
plastic Christmas potpourri ball (the ventilated kind that comes apart in two halves)
Tip: If you can't find fillable balls with ventilation holes, buy the two-part balls and get creative about ventilation. Small drilled holes at the top won't let the potpourri escape but gently disperses the potpourri scent.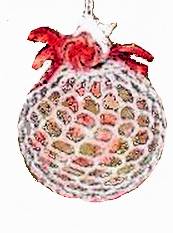 Variations:
Do you have any tired-looking Christmas balls from Christmases past? Give them new life by crocheting a holder for them in the pattern on this page, but using a cotton crochet yarn color that compliments or contrasts the color of your ball (Amazon link).
You can get a unique new look that sets your tree apart from all the mass-produced ornaments on every tree in the neighbourhood.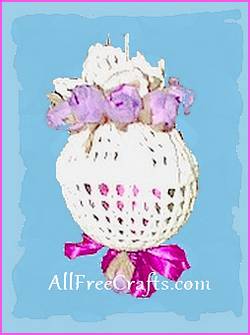 2. Doily Covered Potpourri Ball
This quick and easy project is perfect if you're in a hurry.
You use the same kind of plastic potpourri ball as for the crocheted cover.
For that added touch, simply personalize the doily cover with silk flowers or other little charms.
Crocheted Potpourri Ball Cover Pattern :
Rnd 1 ch 4, sl st in first chain to form ring, ch 3, 21 dc in ring, join with sl st in top of ch 3.(22 dc)
Rnd 2 ch 6, (tr in next st ch 2)around, join with sl st in 4th ch of ch 6(22 tr, 22 ch 2 sps)
Rnd 3 sl st in first ch 2 sp, ch 1, sc in same sp, (ch 4, sc in next ch 2 sp) around to join, ch 2, hdc in first sc (22 ch sp)
insert your round ball with potpourri already in ball. Drill three holes in top of ball (I used my hot glue gun to melt the holes on the top.
Rnd 4-11 ch 1 sc around joining hdc(ch 4, sc in next ch 4 sp) around, join as before.
Rnd 12 ch 1 sc around joining hdc, sc in each ch 4 sp around, joining with slip stich in first sc, fasten off (22 sc)
Make a chain stich chain long enough to hang and thread it throught the plastic loop that should already be on the top of the ball. Knot off.
Tie two separate 6 loop bows and glue to the top and the bottom of the ball, then glue some silk flowers in the center of the bows on top and bottom.