Last updated on December 15th, 2021 at 12:07 am
Easy, peasy – but elegant and pleasing too, as we're sure you will find if you make a few doily wrapped ornaments for Christmas.

If you like this craft, you may also like to see our Victorian Doily Light Bulb or Doily Christmas Tree.
Craft Supplies
Small Doily
Glass ornament or styrofoam ball (you'll need to add a ribbon hanger to the styrofoam ball)
Hot glue
Ribbon
Ribbon roses or embellishments of your choice
Craft Project Instructions: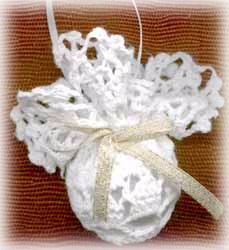 Pin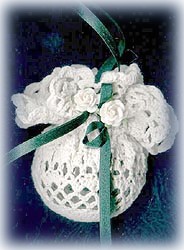 Pin
For these ornaments you can use a glass ornament, styrofoam ball or pretty much anything which is round, fairly lightweight, and can be hung from a narrow ribbon. Just wrap your doily around your ornament and tie with the ribbon to secure.
Use a little hot glue to attach a few tiny flowers, pine cones, Christmas greenery or other embellishments.
Copyright © 1999-2021 Susan Spatone All rights reserved.
Published with permission from CraftatHome.com