Last updated on November 10th, 2015 at 12:12 am
Doily 'n' Tassel Christmas Ornaments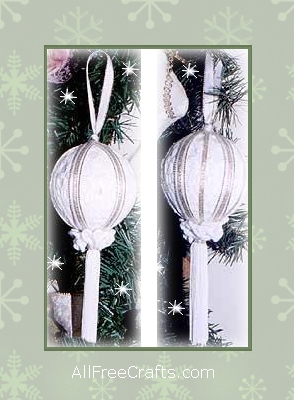 Pin
Add a touch of elegance to your Christmas tree with these pretty ornaments made from doilies, pretty ribbons, and tassels.

Craft Supplies:
Styrofoam ball (I used 3 inch)
Round doily (large enough to wrap around the ball)
Hot glue gun and sticks
White gold rim ribbon (1/4 inch)
Gold ribbon (1/8 inch)
Tassel
How to:
Wrap a doily around your ball as shown in the close-up photo at right. Secure the doily with a piece of ribbon.
There are two different ornaments shown above. The first has twelve strands of ribbon around the ball and the second has only six. To add the ribbon, glue one end (1/4 inch) under the gathered area of the doily, secure with a dot of glue at the centre top of the ornament and then down to the op

posite side, gluing the ribbon again under the gathered doily area.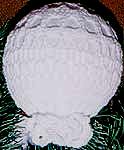 Repeat this, spacing your ribbon evenly around the ball. Now on top of the ribbon you just placed, glue a gold strip (1/8 inch) of ribbon through the centre of the ribbon strands you have already attached.
To create the first ornament shown, simply add additional strips of gold ribbon in the same manner as before, filling in the area between the other ribbons.
Using the 1/4 inch ribbon, create a loop and glue to the top centre of the ornamnent, glue a tassel inside the gathered area of the doily and you are all done!
[xyz-ihs snippet="AFCembed"]
Copyright © 1999-2015 Susan Spatone All rights reserved.
Published with permission from CraftAtHome.com