Last updated on January 29th, 2022 at 01:56 am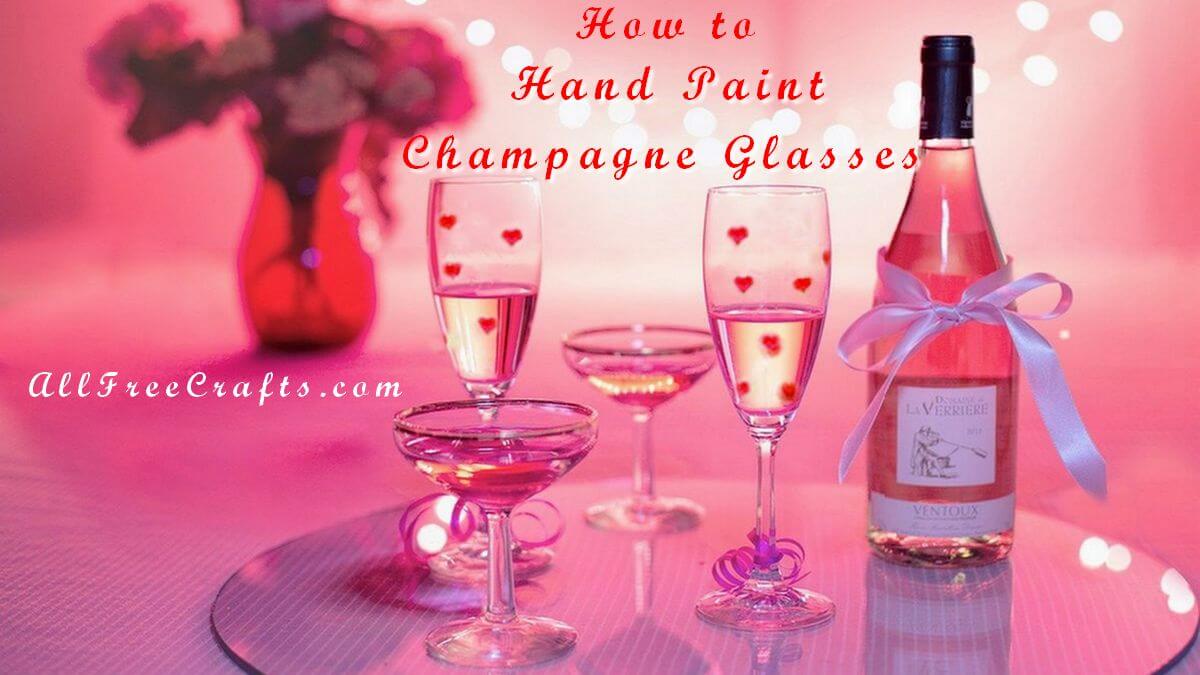 How to Paint Hearts or Small Motifs on Champagne Flutes or Wine Glasses
Set the mood on Valentine's Day with hand-painted champagne flutes featuring a heart motif. Or celebrate St. Patrick's Day with shamrock wine glasses. For Mother's Day, or other special occasions, just change the theme but keep the shapes small and simple for the best effect.
Glass Painting Instructions
How to:
1. Wash glasses thoroughly with soap and water and allow to dry completely.
2. Hand paint your design on the champagne or wine glasses. Hearts or shamrocks are easy choices but practice first on a piece of paper until you get the look and shape that you like.
You may also use stencils, or place a picture that you like on the inside of the glass, painting on the outside to match the photo. Simple hand-drawn flowers like daisies or tulips also work well. Free hand designs will give your work an artsy, homemade look.
3. Remember, with glass, "less is more" and less busy designs often provide the best effect.
If you make a mistake, dip a cotton swab in rubbing alcohol and gently wipe away anything outside of the design (be aware, however, that if the rubbing alcohol runs into your design, the paint may run or smudge).
Be creative, be artistic but, if you truly dislike the result, just wash in warm water or wipe completely with rubbing alcohol until the paint is gone and try again.
4. Wait 24 hours to allow paint to set and cure, before baking to set the design permanently. Follow package instructions for baking — the glasses shown were baked in the oven for 40 minutes at 325°. After baking, your design should be resistant to normal usage and dishwashing.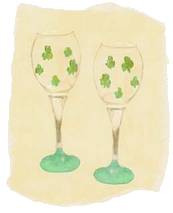 Materials List:
AllFreeCrafts is reader supported! Many craft supplies are available at thrift stores and I actively support recycling so try that first! However, if you purchase from an affiliate link on this site, I do earn a small commission at no extra cost to you. For instance, as an Amazon associate, I earn from qualifying purchases. This has helped me keep AllFreeCrafts.com up and running since 2002. Thank you!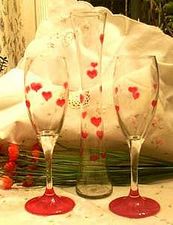 Wine glasses or champagne flutes
Glass paint (the brand used here was a Pebeo Vitrea available at Amazon)
Rubbing alcohol
Soap and water
Ribbon (optional)
Editor's Notes: You may also use Happlee Stained Glass Non-Toxic Porcelain Paint for ceramic, windows, glass or porcelain painting. If so, please follow the manufacturer's instructions for baking and curing the paint.
If you already have a selection of acrylic paints, then it may be more economical for you to try this Glass and Tile Medium for your glass painting.
If you prefer visual how-to's, here's a very short video on YouTube showing how to paint wine glasses with brightly colored hearts.