Learn Seminole Piecing With This Free Eyeglass Case Pattern
by Christina Sherrod.
Pattern Instructions:
Cut the following fabric pieces: (choose your own colors – I will refer to colors in drawing below).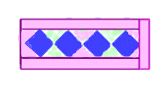 Diamonds & Triangles:
blue: cut 2 strips each 1.75″ x 18″
pink: cut 2 strips each 2″ x 18″
green: cut 2 strips each 2″ x 18″
Side Pieces:
pink: Cut 2 strips 2″ x 8″
Top Binding (Edging)
pink: cut 1 strip 7″ x 1.25″
Thread (to match background)
Note: all seams are 1/4 inch. Always iron between steps.
Sewing Supplies: scissors, quilting pins, large sewing ruler, fabric marking pencils, seam ripper
hint: quilting pins are easier to use than regular pins; a tupperware box works well as a supply box.
Safety Reminders For Little Helpers
A. Always have an adult do all the ironing!
B. Never run with scissors. Carry them pointed end down.
C. Never use a sewing machine without adult supervision.
D. Always let an adult use the seam ripper for you.
Now you are ready to start!
Assemble 2 sets of Rows
Lay out three long strips of fabric, with the narrow one in the middle (i.e. the 1.75″ wide strip is in the middle). Repeat for the second set. Sew the three strips of each set together, right sides together (see photo below). Press seams away from center strip. Trim ends straight, using sewing ruler or quilter's square.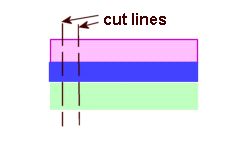 PinCut sewn piece into 1.75″ wide strips. You should have a 10 strips for each set. This is more than you will need, but allows for "errors". See diagram at left.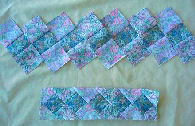 Next, take your 7 best strips of each set and lay them out diagonally, next to each other. Rotate which row is on top (i.e. if pink is on top for one strip, the one adjacent should have green on top). Sew the strips together right sides together. Trim off points. Use a sewing ruler and rotary cutter, or a pair of scissors. Cut off ends, leaving 4 "diamonds" (note, photo below shows 5 – you only need 4). Be sure you leave 1/4″ seam allowance above and below each "diamond" strip, as well as on each end. See photo at right.
Now, lay out your 2 diamond strips and two side strips as shown below. Sew together, right sides together.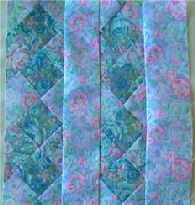 PinCut a piece of felt to exactly measure your finished quilt top.
Baste felt to wrong side of quilt top.
Fold piece lengthwise right sides together, and stitch down long side.
Now, lay out case so that seams of diamond strip are lined up (bottom layer directly over top layer). Stitch across bottom of case.
Turn case right side out.
For final finishing binding around top, turn ends of binding strip under 1/4″ and press. Turn sides of binding strip 1/4″ under and press. Fold binding over lengthwise, wrong sides together and press. Hand stitch into place around top edge of eyeglass case (you may have to adjust length of binding a bit).
Please contact us if you have any problems or questions regarding this pattern.
>CraftAndFabricLinks.com
Copyright © Christina Sherrod 2001-2014 All Rights Reserved