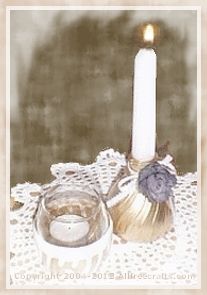 PinFree Candle Crafts:
Recycled Pop Bottle Candle Holders
By Twila Lenoir
I love to recycle and these look great too!
This is truly a Trash to Treasure recycling project – you get two candle holders from each recycled pop bottle!
Supplies:
20oz soda bottle (I used diet Pepsi)
Exacto knife
Scissors
Model car or airplane paint
Thin ribbon
silk or dried flowers
Instructions:
1. Take the paper label off a 20 oz Pepsi bottle.
2. You will see a line towards the bottom of the bottle with swishes like icicles hanging down. Carefully make a small cut with the exacto knife along the top of this line, then finish cutting with scissors to make a nice straight edge all around.
2. The bottom section will be used as a candle cup. Paint with the model paint in gold and then when dry, paint with white the icicles hanging down. Insert a glass candle votive and a tea candle to complete this candle holder.
3. On the top section, find the line with swishes going up. Cut around that line with the exacto knife and finish off with your scissors. I didn't add a bottom as the tall candles stayed right at the neck and stood up straight because of the round bottom. Paint with the gold paint then let dry. Tie a little ribbon at the neck, with a bow and add some dry or silk flowers. Viola – two candle holders recycled from the trash and made into treasure!
Caution:
Never leave children alone with candles – and never leave a candle unattended while burning. Please use candles safely!