Last updated on January 25th, 2020 at 07:52 pm
Gourds: The Hottest New Medium for Crafters
by Phoebe Welburn
When people first hear that gourds are rapidly becoming the most popular medium for crafters, their first reaction is, "Gourds? You mean those squash-things they make birdhouses out of?" Exactly. Only now gourds have evolved way beyond birdhouses. Not only have gourds expanded into every reach of the craft world, they've also made it into the art world as well. Gourds that can be classified as 'fine art' can sell for as much as $20,000 and are now displayed in art galleries across the nation!
Gourds can be grown on the ground like pumpkins, or on a trellis or arbor, and take a full year to grow and dry. While growing they are green and quite heavy, but after 4 months of drying time they become hard like wood, very light weight, and are completely hollow inside except for the dried up pulp and seeds.
The difference between hard-shell gourds and the colorful gourds you find in the supermarket in the Fall is that they don't rot on your kitchen table. Hard-shell gourds can last indefinitely and have actually been found in the Egyptian pyramids intact! The durability and consistency of the hard-shell gourd make it the perfect medium for arts and crafts.
While some gourds are now readily accepted as fine art, most of the gourd work you will find out there falls into the category of crafts.Anyone who has wandered into a craft store to pick up just one item, only to emerge hours later with five bags of goods, knows just how captivating crafting can be!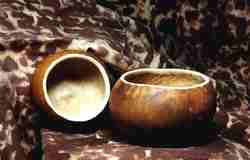 Pin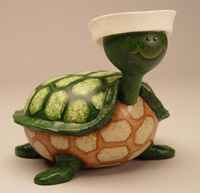 PinIf you consider yourself to be passionate about crafting, you may very well find your next crafting project will involve gourds! So what do you need to know to be considered 'savvy' in the gourd world? Here are some gourd basics to get you started:
First, gourds have a look and consistency similar to wood. This means gourds can be cut, carved, sanded, stained, painted, glued, beaded, polished, etched, wood burned (burned into with a pyrography tool), and practically anything else you can imagine.
Another appealing factor with gourds is their whimsical shapes. Spend any amount of time with gourd lovers and sooner or later you will hear something to the effect of, "Each gourd has its own personality. When I pick up a gourd, it speaks to me, it tells me what to create with it." And if you've looked at any finished gourd pieces, you'll know this to be true.
The reason gourd crafting is becoming one of the fastest growing trends is the incredible versatility gourds offer. Do you love basketry?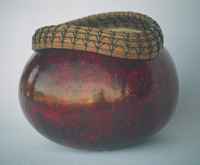 PinOne of the biggest trends in gourd crafting is fiber art. For instance, weaving pine needles or other natural fibers along the rim of a gourd bowl creates a beautiful look and is often one of the first gourd projects a beginner will create.
Perhaps designing with colored pencils is your passion. Colored pencils are absolutely stunning on gourds and have resulted in some of the most famous gourd art pieces. In fact, everything from water colors to acrylic paints are used on gourds. The American Society of Decorative Painters has embraced gourds as one of their most popular mediums. Adding color to a gourd can really bring the project alive.
Many gourd crafters prefer to compliment the earthy look and feel of the gourd by using more natural substances. Dried leaves glued on with a light spray adhesive is a common approach for many crafters.
Many artists use a Dremel tool to carve intricate designs and add 3-dimensional detail to the gourd surface. Creating cut-outs with a mini-crafters saw opens up all kinds of possibilities with design.
Amazon Gourd Books:
– Sponsored Link
Gourd Crafts, 20 Great Projects to Dye, Paint, Carve, Bead and Woodburn in a Weekend
Ginger Summit's clear directions and step-by-step photos demonstrate all these techniques! Learn to make various gourd shapes into masks, candleholders, bracelets, numerous containers, and many other items. An excellent gourd crafting book!
PinThe Complete Book Of Gourd Craft


22 Projects * 55 Decorative Techniques * 300 Inspirational Designs * Well Recommended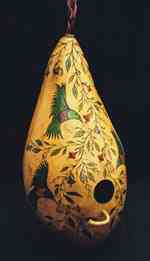 PinLeather dyes have become the coloring agent of choice among many seasoned gourd crafters because they allow the natural markings of the gourd to show through. Leather dyes come in many colors, and they give the artist or crafter the ability to produce a whole range of different effects.
A large percentage of gourd crafters today came from the woodworking industry. Artists and crafters with a background in woodworking just seem to be drawn to gourds. Some of the most stunning gourd art is created using nothing more than a simple wood-burning tool available at any craft or hardware store for under $20. Many first-time gourd crafters choose to simply stencil a pattern on their gourd and then wood burn the pattern onto the gourd surface. This technique allows even the first-timer to create stunning gourd pieces in just a few hours.
Gourds are a natural product so no two gourds are ever alike. This diversity means you as the crafter never get tired of working with gourds because each one stimulates a new idea. For many gourd crafters, each gourd is a new opportunity to try something they haven't done before, to create a piece that is unique in every way.
With each gourd having its own character or personality, and with so many ways to work with gourds, the crafting possibilities are literally endless! So where do you get started? If you are not sure what area of gourd crafting will interest you, start with a simple project to give you a feel for the medium and download these free instructions for a Gourd Easter Basket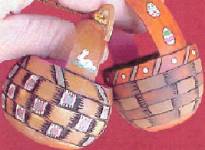 Pin, shown at left.
You may also be interested in the many photographs and tips featured in our article on Gourd Purses.
Many other web sites also offer great gourd project ideas and simple gourd kits designed for beginners. Try typing 'gourd projects' or 'gourd kits' into your favorite search engine to get some ideas. Another great resource for beginners is "The Gourdzette," the official newsletter of the gourd community, which you can subscribe to for free. It is published every other week and includes all kinds of information on gourd shows and activities, gourd resources, new gourd projects, and gourd crafting tips and advice. Visit www.thegourdzette.com to subscribe.
If you have yet to try gourd crafting, now is the time to get involved. Gourds are rapidly becoming the favorite medium among crafters and the industry is growing almost daily. Get in on the fun and give gourds a try!
Author Phoebe Welburn is the Vice President of the Welburn Gourd Farm, the largest supplier of hard-shell gourds in the world for the past 24 years, producing over 350,000 gourds per year. In 1998 she founded the annual International Gourd Art Festival, currently the most popular gourd show in the country.