Last updated on October 23rd, 2021 at 01:47 am
Pumpkin Faces and Pumpkin Painting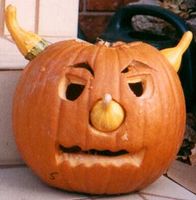 Pumpkin carving and painting is tons of fun and so easy!
My first pumpkin is just a simple carving and holes cut at the sides with gourds inserted for ears and a gourd inserted for the nose.
Get inspired by the shapes of small gourds or squashes as you work to make a pumpkin face.
My construction worker pumpkin is a replica of hubby! All our visitors were amused, hubby wasn't as enthusiastic (hee hee).
I purchased a child's construction hat and a pair of safety glass (both at a dollar store) and simply glued them to the painted pumpkin.
To paint your pumpkin, regular acrylic paints work great.
My pop-eyed pumpkin, shown at left, is another simple carving with gourds inserted for eyes.
You can be very creative with this traditional Halloween activity because there are so many different ways to paint or carve your creations.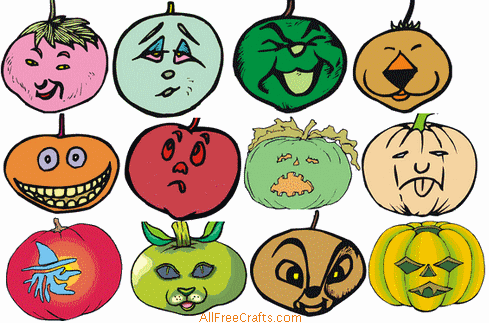 Use the following pumpkin clipart to inspire your own pumpkin face painting or pumpkin carving ideas:
Copyright © 1999-2021 Susan Spatone All rights reserved.