Last updated on November 26th, 2021 at 12:50 am
Arrange a Pot of Blooming Roses
Here's how to arrange a pot of blooming silk roses for Valentine's Day or Mother's Day without breaking your budget. Dollar stores and bargain stores both have some very nice, inexpensive silk florals these days. Pick out a rose bush and a special ceramic vase, and you can make a homemade version of this classic arrangement for far less than you'd pay in a gift store for the same look.
What You Will Need:
» » Ceramic vase
» » Dry floral foam
» » Spanish moss
» » Rose bush
» » Floral Pins
» » Hot glue gun and glue
Craft Instructions: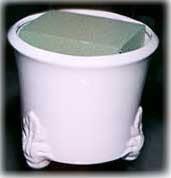 Pin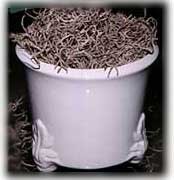 Pin
Cut a piece of floral foam that will fit snuggly inside of your container. Add a few drops of hot glue to the bottom of your foam.This will hold your foam in place.
Don't be afraid to add a little force when pushing the foam into the container. You want a very snug fit.
Fill the top and any side openings with spanish moss. Secure the Spanish moss with floral pins.
Decide if your bush is too long for the container and if so, using wire cutters, trim the stem to the desired height.
Add hot glue to the bottom of your rose bush stem and push the bush stem through the spanish moss and foam at the center of the arrangement.
That's all there is to it!