Last updated on September 26th, 2015 at 02:12 am
This little froggy is so easy to make with our free craft pattern – and so cute in the garden (or nestled in with your favourite house plant!)
By: Twila Lenoir
Although the handsome frog pictured here is made of wood, if you are using the plant stake only indoors, why not try green fun foam instead? Use glue, instead of nails, to fasten a stake to the frog.
Supply List:[xyz-ihs snippet="AFCembed"]
For wooden frog stake:
acrylic craft paint
permanent black marker
wood saw
2 nails
sandpaper
sealer
For craft foam version
acrylic craft foam in green
permanent black marker
permanent markers in orange, red and dark green
plastic, movable eyes
For both versions: One copy of the Printable Frog Pattern
Project Instructions: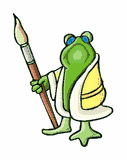 1. Print and cut out our free frog pattern and use it to trace the design onto your wood or fun foam. Cut out the pattern using scissors for the craft foam or a wood saw (don't forget to wear your eye protection). If using wood, sand all the sides, top and bottom, then wipe off surface with a rag.
2. Cut a stake that is 1- 1/4 inches wide and 12 inches long. You could use part of a broom handle, or even an old wooden ruler for the stake, as I did. Cut the bottom of the stake at an angle so it will be easy to insert in the dirt.
3. Nail the stake to the center back of the wooden frog, extending it to approximately the middle of the frog's height. If using fun foam, simply glue the frog to the stake.
4. Color the frog, using paint on the wood or permanent markers on the fun foam. The following colors are the ones that I used, but any similar colors would work:
Color the entire frog spring green and let dry.
Color the circles in Pure orange and Napthol crimson.
Use Holly leaf green for highlighting the edges of the frog, under his chin and where his limbs are in the front.
5. Glue google eyes in place for the fun foam frog. For the wooden frog, paint white eyes and black pupils, then make another white dot on each pupil in the direction that you want the frog to be "looking."
6. When all the paint is dry, take a permanent black marker and trace around the frog's spots and chin, smile and eyes and front limbs.
Lastly, for the wooden frog, spray or brush on an outdoor sealer. Enjoy!